Senior Services
Financial support for adult group respite services is provided, in part, under contract with the Central MN Council on Aging as part of the Older Americans Act Program. Assessments are completed to identify areas of concern for participants. Education and advocacy are provided to help participants connect with other available resources, from applying for food support to applying for grants and loans for more extensive home repair needs.
Senior Services Application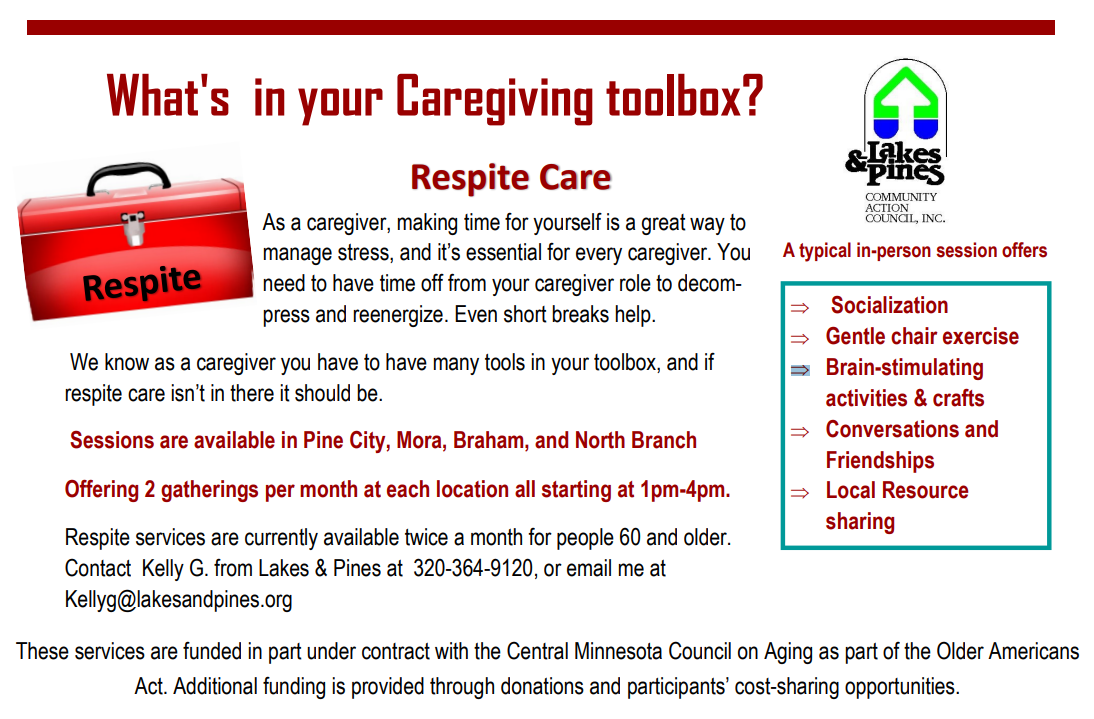 Adult Group Respite
Respite services are currently being provided in-person at 4 locations Mora, Braham, North Branch, and Pine City. Please contact Kelly G at 1-800-832-6082 or 320-679-1800 option #4 for additional information or to register for the respite program. You may also contact us by using our Contact Form and selecting Senior Services.
All sessions are from 1:00 pm to 4:00 pm on designated days. Beverages and light snacks are offered.
A typical respite session offers:
Gentle chair exercise
Brain-stimulating activities
Arts and crafts
Socialization
Companionship
Fun
All while offering the caregiver a much-needed break, knowing their care receiver is safe and enjoying time with friends.
Pre-registration is required for Adult Group Respite
Volunteers are needed to assist at in-person Adult Group Respite.
Will you help your neighbors?
Click Here to be linked to the Volunteer Inquiry
or call Senior Services (800-832-6082, option 4) for more information.
Delivery Services
Lakes and Pines Community Action Council may help people 65 and older with grocery ordering and delivery, enabling them to remain in their own homes longer.. We meet with you to understand your needs, assign an appropriately skilled staff person or volunteer as available, to accomplish those tasks, and follow up to ensure completion. If you are in need of complex home repairs, we will help you apply to the USDA Home Modification, MN Housing Finance Agency.
Please contact us with any questions about grocery delivery services, or if you need additional services. We can help you connect with the appropriate Lakes and Pines department, or another service provider if applicable:
Robert O - Senior Facilitator (800) 832-6082 or use this
Contact Form
Community Resources
Lakes & Pines CAC Inc. partners with community resources to develop and implement strategies that address the problems of the seniors of the seven counties, Aitkin, Carlton, Chisago, Kanabec, Isanti, Mille Lacs and Pine.
Other resources you may find helpful:
https://mn.gov/senior-linkage-line
The Senior Linkage Line assists older Minnesotans and caregivers, by connecting them to local services, finding answers, and getting the help they need. 1-800-333-2433
https://www.arrowheadaging.org/
Arrowhead Area Agency on Aging serves people in Aitkin, Carlton and other counties. Their vision is that all people 60+ in the Arrowhead have access to supportive services and the choice to be independent, active and stay in their own homes as long as possible. 1-800-232-0707
http://www.cmcoa.org/
Central Minnesota Council on Aging serves people in Chisago, Isanti, Kanabec, Mille Lacs, Pine and other counties. They help older adults age successfully by building community capacity, advocating for aging issues, maximizing service effectiveness, and linking people with information. 320-253-9349
https://arrowheadtransit.com/
Provides affordable, safe, accessible public transportation and supports independent living and independence. For Rides Phone: 800-862-0175
https://timbertrailstransit.com/"
Timber Trails Public Transit works to make it as easy as possible to access public transportation in Kanabec County. First time riders may call 1-320-364-1350 OR 1-888-217-5222
https://tricap.org/transportation/
Tri-County Community Action Program in St. Cloud operates Transit Connection – Public Transit which includes bus service in Milaca and Princeton. Call for more information 888-765-5597 or 320-251-1612