Financial Programs Assistant
Financial Programs Assistant position in Mora. Lakes & Pines Community Action Council, Inc. is hiring a Financial Programs Assistant to join their team in a comprehensive approach to community building by assisting the Financial Programs Coordinator with the implementation and coordination of the financial programs provided by Lakes & Pines CAC., Inc. This position is responsible for assisting in the recruitment of program volunteers and conducting outreach on the various programs offered by Lakes & Pines, including those related to Tax Preparation, financial fitness, finances, budgeting and asset building. Integral to this position is continued support for the mission of the Agency and advocacy for low-income persons. High school diploma or GED required; post-secondary degree preferred or 2-4 years of experience working in a related field. Position is seasonal, part-time, 28 hours per week, primarily evenings, and occasional Saturdays. Starting salary range is $16.34 to $16.99 per hour, depending on qualifications and has a full range of $16.34 to $22.12 per hour; Lakes & Pines is an Equal Opportunity Employer. Women, minorities, individuals with disabilities and veterans are encouraged to apply. Reasonable accommodations provided upon request. Full job description and application are available at www.lakesandpines.org. Applications are due by 4:00 p.m. on Friday, October 25th, 2019 at this address: 1700 Maple Avenue E, Mora, MN 55051. Resumes are not accepted.
Application deadline is Friday, October 25, 2019 at 4:00 PM
---
Job Description(s)
Financial Programs Assistant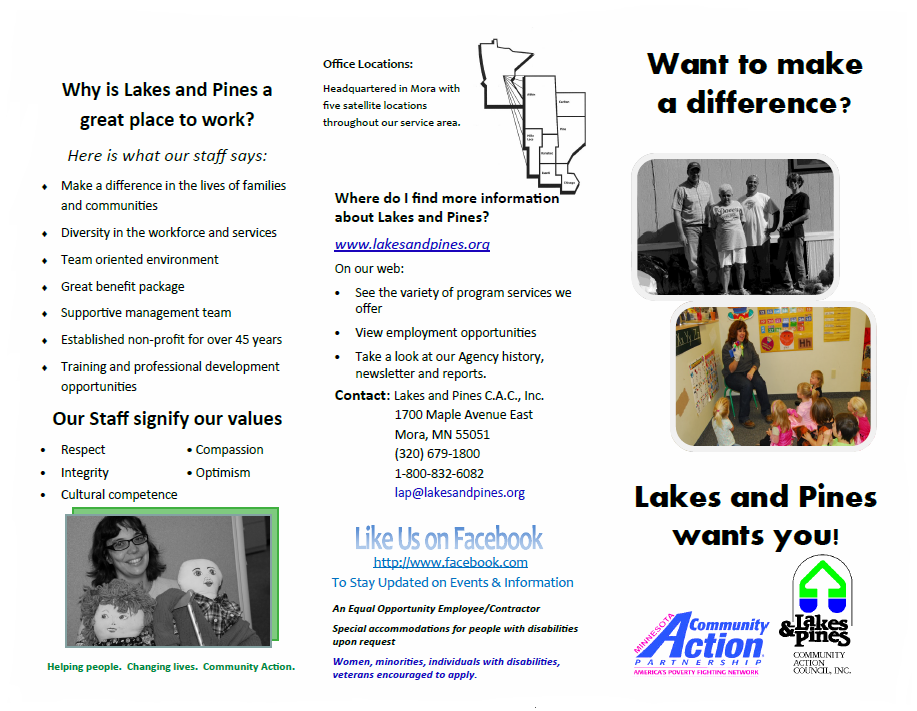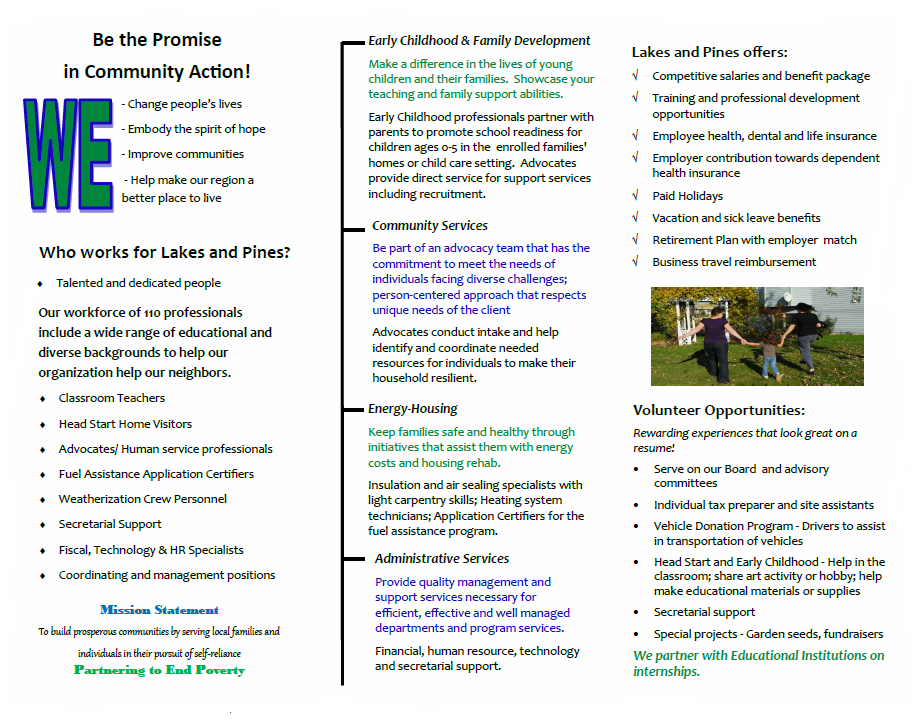 In accordance with federal and state laws, Lakes and Pines CAC is an equal opportunity employer, contractor and provider of services. The Agency will maintain a policy of non– discrimination with all employees and applicants for employment. All aspects of employment within the Agency will be governed on the basis of merit, competence and qualifications and will not be influenced in any manner by race, color, creed, religion, sex, age, national origin, disability, public assistance status, marital status, veteran status, sexual orientation, or gender identity,status as a parent, familial status, or in a local human rights commission or any other legally protected status.

If an applicant needs reasonable accommodations for the employment application process, please contact Lakes and Pines either by phone, mail, email or in person and request such consideration. (Such as sign language, interpreter, materials in large print, accessibility)

Individuals are encouraged to complete an Employment Application form whether or not a vacancy currently exists. Employment applications will be kept on file for one year and will be considered for appropriate job vacancies.