WEATHERIZATION FIELD MANAGER
Paid vacation and sick leave, retirement and health care benefit packages!
• Responsible for completing inspections (pre, interim and post) • producing work specifications • supervising work of crews • maintaining warehouse inventories • any training associated with the effective operation of the department's housing programs • providing assistance in the development, implementation, and evaluation of all assigned programs and projects as they relate to the Energy/Housing Department • Major Qualifications: three years' experience in residential construction or an associate degree in residential construction and the ability to work with low-income families. Valid Driver's License
Lakes and Pines is an equal opportunity employer. Women, minorities and people with disabilities are encouraged to apply. Must be age 18 or older to apply. Favorable background check & drug test required. Minimum Salary $17.81/Hr. FT, Year Round, 40 hours/week. Individuals interested should submit applications by 4:00 p.m., January 25th. No resumes accepted.
Application deadline is Friday, January 25, 2019 at 4:00 PM
---
Job Description(s)
Field Manager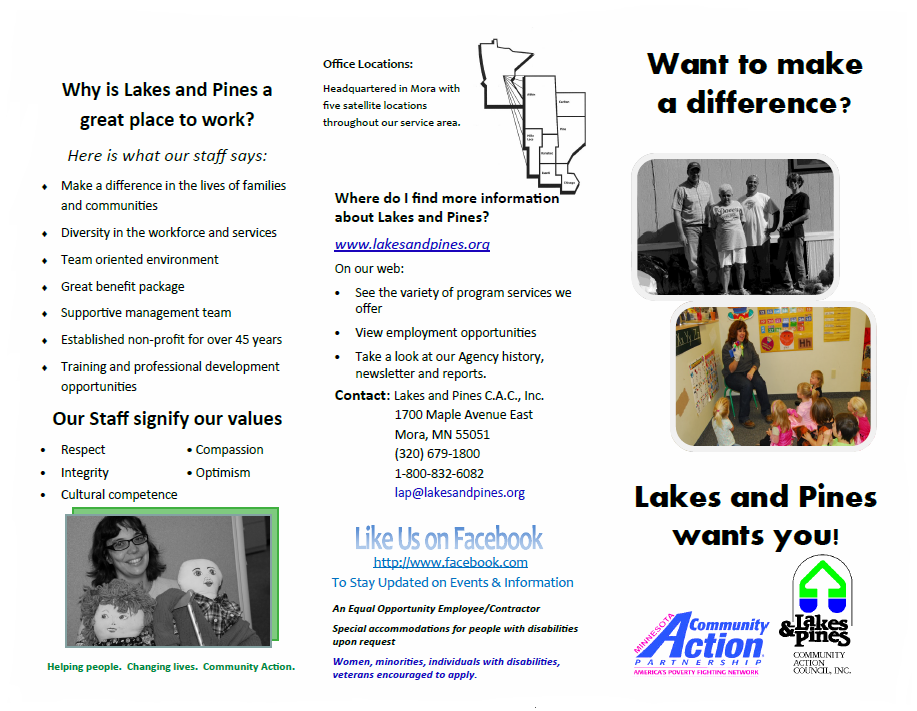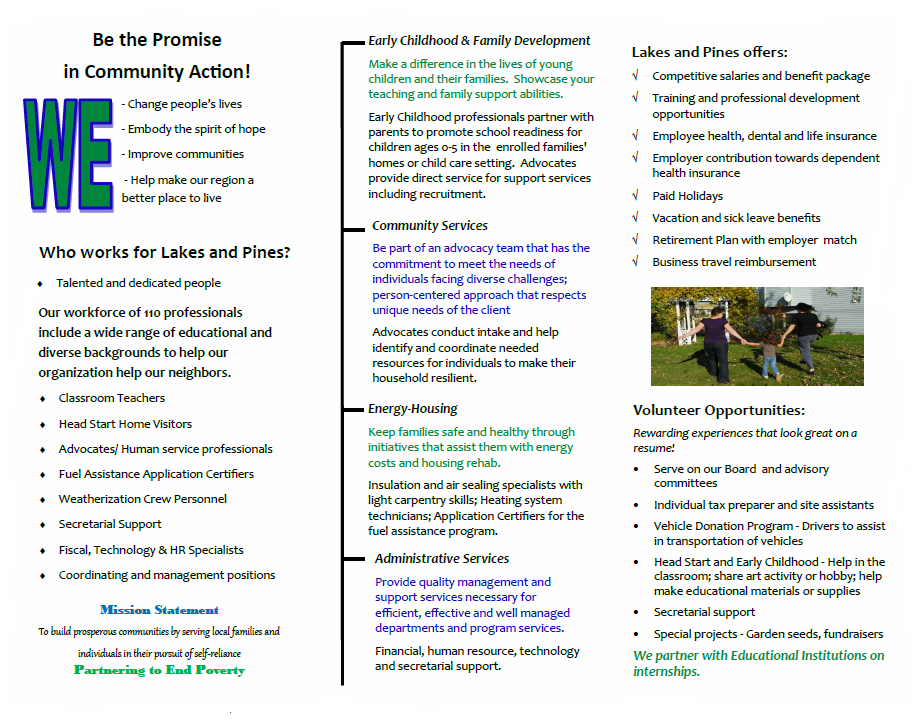 In accordance with federal and state laws, Lakes and Pines CAC is an equal opportunity employer, contractor and provider of services. The Agency will maintain a policy of non– discrimination with all employees and applicants for employment. All aspects of employment within the Agency will be governed on the basis of merit, competence and qualifications and will not be influenced in any manner by race, color, creed, religion, sex, age, national origin, disability, public assistance status, marital status, veteran status, sexual orientation, or gender identity,status as a parent, familial status, or in a local human rights commission or any other legally protected status.

If an applicant needs reasonable accommodations for the employment application process, please contact Lakes and Pines either by phone, mail, email or in person and request such consideration. (Such as sign language, interpreter, materials in large print, accessibility)

Individuals are encouraged to complete an Employment Application form whether or not a vacancy currently exists. Employment applications will be kept on file for one year and will be considered for appropriate job vacancies.