Program Receptionist
LAKES AND PINES C.A.C., INC.
1700 MAPLE AVENUE EAST
MORA, MINNESOTA 55051
320-679-1800
TITLE: Program Receptionist
SALARY RANGE: 2
CLASSIFICATION: 5
HOURS: Determined by Program
STATUS: Non-exempt Position

I. GENERIC DESCRIPTION
Greets incoming visitors/clients, determines their needs and refers them to the appropriate resource staff and/or Department. Performs basic typing and secretarial work under direct instruction and supervision. Operate standard multi-line phone system. Schedules appointments for program clientele and department staff. Oversees Department faxes for distribution to appropriate personnel.
A. Essential Functions
•
Supports the Mission of the Agency and goals of the Department.
•
Answer incoming calls, transfers calls and/or conveys messages for assigned program. Tracks data appropriately in agency's computer system.
•
Assist those persons coming into office and/or direct to other applicable program personnel. Has general working knowledge of referral sources.
•
Type and edit any and all copies of material as assigned through supervisor, utilizing Agency computer.
•
Has working knowledge of Department reports and procedures.
•
Proofread all typed work for accuracy.
•
Operate standard office machines as required.
•
Responsible for filing as it relates to assigned work.
•
May be required to take notes at program staff meetings and other meetings as designated.
•
Ensures delivery of outgoing mail for the Department, following current USPS guidelines and Agency policies. Assists with incoming mail of the Department.
•
May write correspondence.
•
Assists with messages from the 24-hour answering service and/or voice messaging and routing messages to appropriate personnel.
•
May assist in scheduling appointments for program, as well as confirming appointments.
•
May be required to answer Agency-wide multi-line phone system in absence of Agency Receptionist/Secretary. May be required to distribute incoming Agency Mail and processing/delivering of Agency outgoing mail, following all current USPS guidelines and Agency policies in the absence of Agency Receptionist.
•
Will assist with general data entry and retrieval from Agency's computer system(s), such as appointment scheduling and other program management data and word processing.
•
Assist in opening up and securing at close of work day the Department area, including files and shutting off equipment, as instructed by supervisor.
•
Have knowledge and apply Agency policies and procedures including safety, technology, data practices and other applicable policy, procedure and program regulations.
•
May assist clientele in completion of program applications.
•
Assists with electronic document imaging/filing system.
•
Receives and distributes the Department's faxes. Sends faxes per Department procedures.
•
Other essential tasks as assigned by supervisor.
B. Secondary Functions
•
Other secondary tasks as assigned by supervisor.
III. ELIGIBILITY REQUIREMENTS
•
Must be able to operate standard office machines and type using a standard keyboard with efficiency and accuracy.
•
Must possess good written and verbal communication skills.
•
Must have knowledge of filing.
•
Must be of a courteous manner on telephone and in direct speaking.
•
Must be able to follow directions.
•
Must have the ability to learn and follow secretarial, department and Agency procedures.
•
Must have the desire for self-improvement.
•
Preferred office experience and/or business office courses desirable.
•
Demonstrated knowledge and use of personal computer.
•
Must be able to keep confidences.
•
Able to work with a diverse population and sensitivity to poverty issues.
•
Based upon individual program requirements, the position holder may be subject to a Criminal Background Check, the results of which are acceptable to the Agency.
IV. PHYSICAL REQUIREMENTS/DEMANDS
Refers to the necessity for physical exertion in performing the duties of the position and the dexterity in limb or body movements to satisfactory performance:
•
For this position there is occasional light lifting, up to 30 pounds; continuous light work; skill, adeptness and speed in the use of fingers, hands or limbs on repetitive operation of office equipment or tools within moderate tolerances or limits of accuracy, stationary sitting for extended period of time.
V. ADVANCEMENT
Advancement to other positions within the Agency may occur dependent upon experience, training, education and availability of positions.
•
Program Receptionist Agency
•
Receptionist/Secretary; Program Secretary I, II
•
Department Administrative Assistant Executive
•
Secretary Administrative Assistant to the Executive Director
Additional Information
Lakes and Pines CAC reserves the right to revise this job description and change job duties and responsibilities as Agency and program(s) needs arise. This job description does not constitute a written or implied contract of employment; and provides a general overview of expectations of the position holder.
An Equal Opportunity Employer/Contractor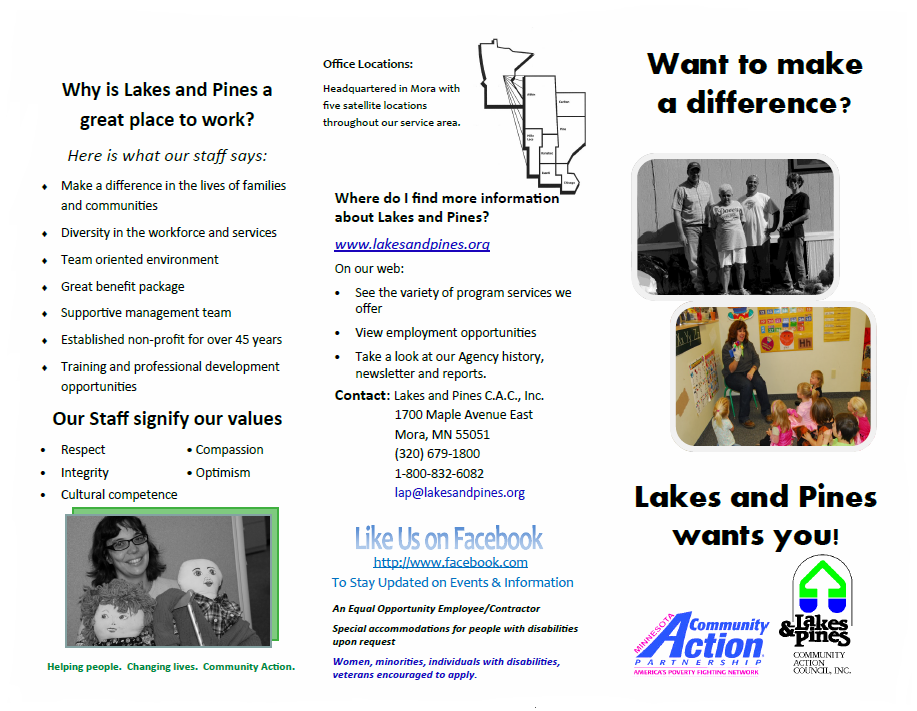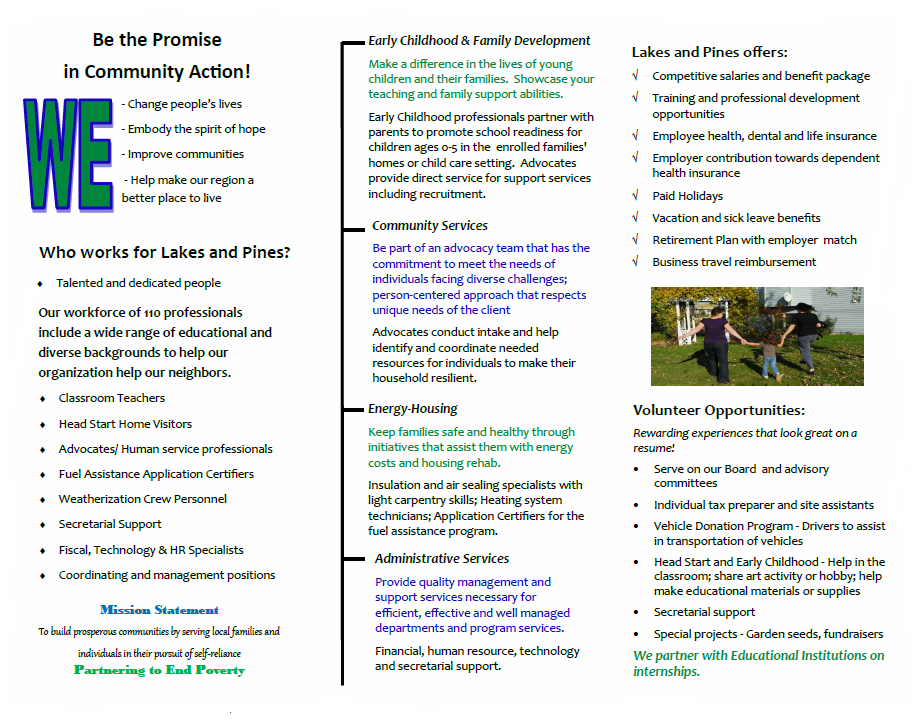 In accordance with federal and state laws, Lakes and Pines CAC is an equal opportunity employer, contractor and provider of services. The Agency will maintain a policy of non– discrimination with all employees and applicants for employment. All aspects of employment within the Agency will be governed on the basis of merit, competence and qualifications and will not be influenced in any manner by race, color, creed, religion, sex, age, national origin, disability, public assistance status, marital status, veteran status, sexual orientation, or gender identity,status as a parent, familial status, or in a local human rights commission or any other legally protected status.

If an applicant needs reasonable accommodations for the employment application process, please contact Lakes and Pines either by phone, mail, email or in person and request such consideration. (Such as sign language, interpreter, materials in large print, accessibility)

Individuals are encouraged to complete an Employment Application form whether or not a vacancy currently exists. Employment applications will be kept on file for one year and will be considered for appropriate job vacancies.