Weatherization Program Operations Assistant
LAKES AND PINES C.A.C., INC.
1700 MAPLE AVENUE EAST
MORA, MINNESOTA 55051
320-679-1800
TITLE: Weatherization Program Operations Assistant
SALARY RANGE: 4
CLASSIFICATION: 7
HOURS: Determined by Program
STATUS: Non-Exempt Classification

I. GENERIC DESCRIPTION
The Weatherization Program Operations Assistant shall assist the Weatherization Program Operation Coordinator with all activities associated with weatherization and conservation improvement programs.
A. Essential Functions
•
Support the mission of the Agency.
•
Develop a thorough working knowledge of all Federal and State regulations and procedures as they relate to the weatherization programs.
•
Provide clerical and office support for the weatherization office.
•
Use guidelines to select clients, download records, and prepare job books.
•
Be proficient in determining client eligibility and maintaining corresponding records.
•
Be proficient in working with contractors and vendors.
•
Prepare and track all work order bids and proceeds to contractors and vendors.
•
Keep the Administration Assistant/Coordinator informed of all potential programmatic problems or concerns relative to programs or operations.
•
Answer consumer questions regarding designated programs. Has general working knowledge of Agency and community resources for appropriate referrals.
•
Be proficient in maintaining logs of weatherization crew activity, vehicle utilization, and vehicle maintenance.
•
Become proficient in preparing bids; ordering materials, tools, and equipment; and maintaining records for materials needed for the weatherization programs.
•
Assist in keeping weatherization files current and informing clients of program requirements.
•
Provide telephone coverage for the program, receiving incoming calls, recording messages, referrals and to screen and route calls and messages to the proper persons/programs.
•
Assist with physical inventory.
•
Assist in the coordination of energy and conservation programs and projects for low-income clients.
•
Have knowledge and apply Agency policies and procedures, including safety, technology, data practices and other applicable policy, procedure and program regulations.
•
Keep all computer files on the Agency network.
•
Maintain consumer and personnel confidentiality.
•
All other duties as assigned by the supervisor and/or Program Director.
B. Secondary Functions
•
May make public presentations to special groups to inform them of the programs and projects currently available.
•
Assist with electronic document imaging/filing system.
•
Prepare monthly operational and programmatic reports regarding the weatherization programs.
•
Become proficient in preparing invoices for utility Conservation Improvement Programs.
•
When assigned, will fulfill the job duties of the Weatherization Program Operations Coordinator in his/her absence.
•
Will perform all secondary job functions as assigned by the supervisor and/or Program Director.
III. ELIGIBILITY REQUIREMENTS
•
Must be able to work with low-income clients, be sympathetic to their situation, and advocate on their behalf.
•
Must be able to work with vendors, contractors, and county governments
•
Must possess good written and oral communication skills.
•
Must possess excellent organizational and time management skills.
•
Must be able to work under periods of demanding workloads.
•
Must have a high school diploma or equivalent.
•
Must be able to maintain complete client confidentiality.
•
Must be able to prepare reports and gather program data.
•
Must have working knowledge of software programs.
•
Is subject to a Criminal Background Check, the results of which are acceptable to the Agency.
•
Must take and successfully pass a pre-employment drug test as a condition of employment per the Agency's Personnel Policies.
Additional Information
Lakes and Pines CAC reserves the right to revise this job description and change job duties and responsibilities as Agency and program(s) needs arise. This job description does not constitute a written or implied contract of employment; and provides a general overview of expectations of the position holder.
An Equal Opportunity Employer/Contractor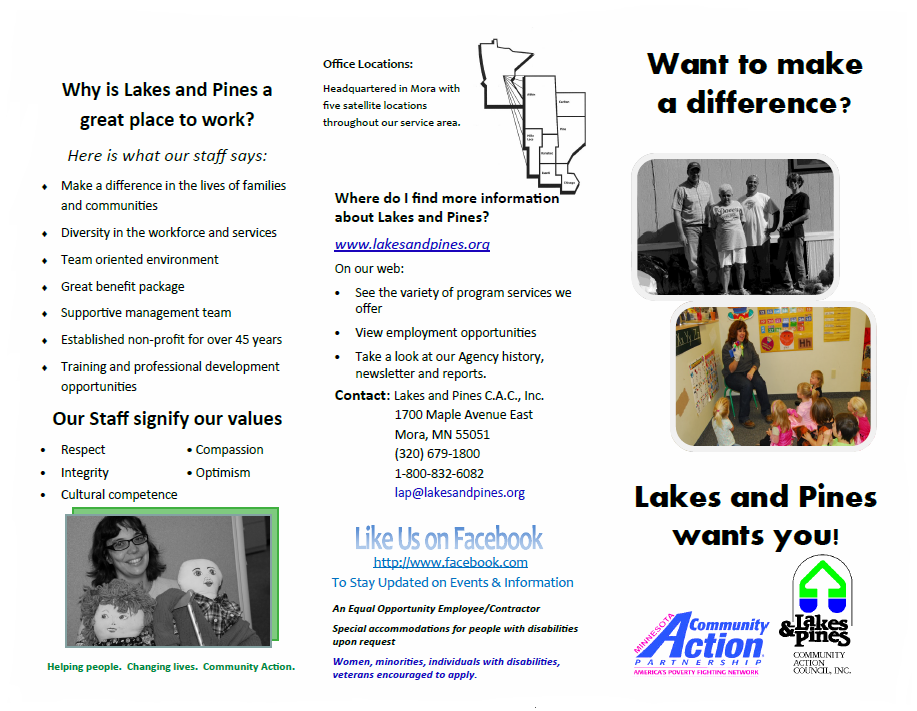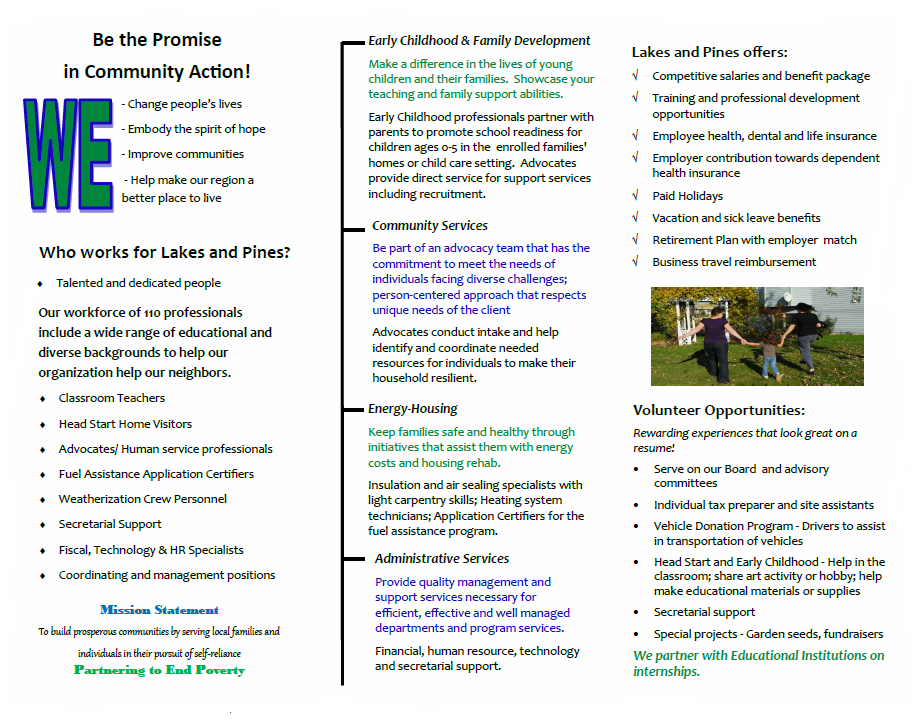 In accordance with federal and state laws, Lakes and Pines CAC is an equal opportunity employer, contractor and provider of services. The Agency will maintain a policy of non– discrimination with all employees and applicants for employment. All aspects of employment within the Agency will be governed on the basis of merit, competence and qualifications and will not be influenced in any manner by race, color, creed, religion, sex, age, national origin, disability, public assistance status, marital status, veteran status, sexual orientation, or gender identity,status as a parent, familial status, or in a local human rights commission or any other legally protected status.

If an applicant needs reasonable accommodations for the employment application process, please contact Lakes and Pines either by phone, mail, email or in person and request such consideration. (Such as sign language, interpreter, materials in large print, accessibility)

Individuals are encouraged to complete an Employment Application form whether or not a vacancy currently exists. Employment applications will be kept on file for one year and will be considered for appropriate job vacancies.