Program Secretary I
TITLE: Program Secretary I
DEPARTMENT:
REPORT TO: Department Administrative Assistant

SALARY RANGE: 3
CLASSIFICATION: 6
STATUS: Non-Exempt Position

The Program Secretary I is responsible for meeting the Agency's mission as a team member by providing clerical support to the department and to support department procedures by performing basic clerical tasks under direct instruction and supervision.
Education
•
High School Diploma or equivalent
Education may be waived with significate job related experience
Work Environment
•
Conventional – Office model
•
Community Facing – Direct interaction or communication with a public.
SKILLS, ABILITIES, & OTHER KNOWLEDGE
Skills
•
Excellent oral and/or written communications skills.
•
Ability to manage time that results in both a satisfactory quantity and quality of work.
Ability
•
Support the Mission of the Agency through daily work and while representing the Agency in public.
•
Have general knowledge of programs and activities of the Agency.
•
Demonstrated ability to work independently and as a team member.
•
Must be able to handle diverse work problems on a daily basis.
•
Must be able to organize a work schedule, set priorities and work effectively to meet deadlines without supervision.
•
Must be able to adjust to changes necessitated by last minute assignments and deadlines requests that may prove stressful.
•
Ability to effectively work across differences, especially socio-economic and cultural differences.
•
Attend trainings, classes and meetings as necessary to improve job skills and maintain an acceptable level of job performance.
•
Serve as a mentor for new staff.
Other Knowledge
•
Have knowledge and apply Agency policies and procedures, including safety, technology, data practices and other applicable policy, procedure and program regulations.
•
Understand numbers and mathematical concepts.
•
Knowledge of Community resources.
PRIMARY DUTIES & RESPONSIBILITIES
This job description is not intended to be all-inclusive and employee will also perform other reasonably related business duties as assigned.
Area 1: Program Operations
•
Be departments first point of contact to all walk-ins, providing direction and assistance with their needs or request for aid.
•
Know and maintaining a current working understanding of all Lakes and Pines programs and guidelines to ensure the greatest degree of accuracy is given to customers while offering a broad awareness of services available.
•
Working knowledge of office equipment such as photocopiers, fax machines, image scanners, etc.
•
Provide telephone coverage for the office, receiving incoming calls, recording messages, referrals and to screen and route calls and messages to the proper program.
•
Provide direct services to customers; May assist customers in completion of program applications accurately and completely.
•
Provide computer support, including data entry, document preparation, filing, copying, assisting with mailings, scheduling of appointments/follow-ups, as requested.
•
Assure adequate supplies are on hand for office operations; assist with checking in supply orders and distribution of items.
•
Type any and all copies of printed and handwritten materials as assigned by supervisor.
•
May be required to answer main multi-line phone system at the central office in absence of the Agency Receptionist/Secretary or Office Admin Support Specialist.
•
Reporting repairs of maintenance issues to the proper person in a timely manner.
Area 2: Program Compliance
•
Maintain an accurate record of customer contacts, including walk-ins, phone calls, intakes, referrals, and applications requested or submitted.
•
Assists with electronic document imaging/filing system.
•
Informs supervisor of potential problems dealing with procedures, policies and/or employee concerns.
Area 3: Program Communications
•
Process and distribute department incoming mail. Ensures delivery of department outgoing mail, in accordance with United States Postal Service (USPS) regulations and Agency policy.
•
Receive and distributes the Department's faxes. Sends faxes per Department procedures.
•
Manages and tracks staff schedules and ensures accuracy.
Area 4: Development Assistance
•
Create and maintain an accurate electronic succession plan for the position.
•
Participating in program recruitment and outreach of programs at the direction of the Department Director or Administrative Assistant.
•
Maintain regular communication in regards to operational and program needs, issues and activities with program management and/or Department Director.
Supervision of Others
•
Not responsible for supervision of others
Safety of Others
•
Minimal responsibly for the safety of others. Probability of injury to self or others in remote.
Contacts
•
Contact is within own department, and with other departments, customers, vendors, or the public.
Physical Demand
•
Must be able to lift 25 pounds.
•
Requires sitting, standing, bending, stooping and reaching.
•
Physical ability to operate equipment specific to your position.
Travel
•
Must have reliable transportation.
•
Must have valid driver's license and current auto insurance coverage in compliance with Minnesota State guidelines on the vehicle used for work related travel.
•
Travel for completion of job duties, trainings and meetings as required.
GENERAL AGENCY REQUIREMENTS
Professionalism
•
Maintain positive work atmosphere by behaving and communicating in a manner that fosters good relations with customers, co-workers, providers, volunteers and supervisors.
•
Treat customers, co-workers and public in a respectful and courteous manner at all times.
•
Continue to develop skills and abilities.
Community Representation
•
Represent Lakes and Pines Community Action, Inc. in a positive manner.
•
Adhere to the Community Action Code of Ethics.
•
Seek to understand poverty and barriers faced by community members.
Confidentiality
•
Maintain confidentiality of agency, program and customer information.
An Equal Opportunity Employer/Contractor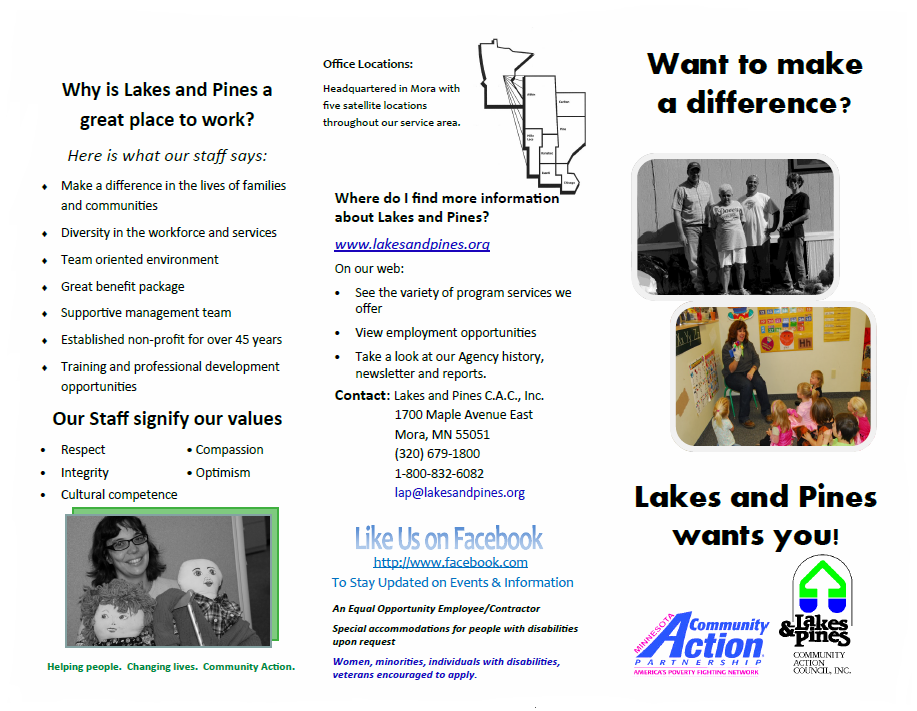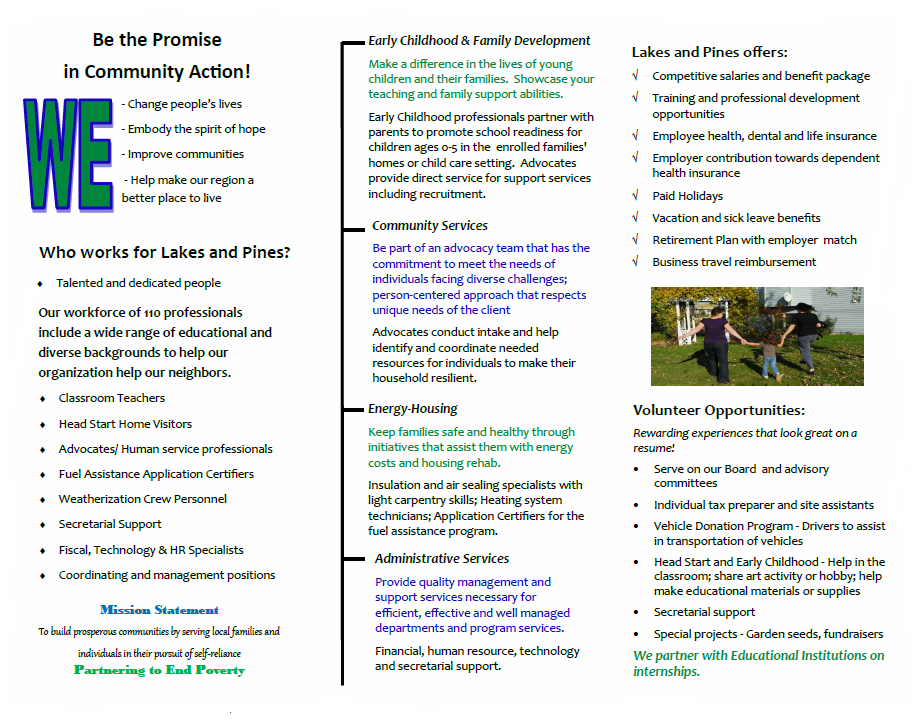 In accordance with federal and state laws, Lakes and Pines CAC is an equal opportunity employer, contractor and provider of services. The Agency will maintain a policy of non– discrimination with all employees and applicants for employment. All aspects of employment within the Agency will be governed on the basis of merit, competence and qualifications and will not be influenced in any manner by race, color, creed, religion, sex, age, national origin, disability, public assistance status, marital status, veteran status, sexual orientation, or gender identity,status as a parent, familial status, or in a local human rights commission or any other legally protected status.

If an applicant needs reasonable accommodations for the employment application process, please contact Lakes and Pines either by phone, mail, email or in person and request such consideration. (Such as sign language, interpreter, materials in large print, accessibility)

Individuals are encouraged to complete an Employment Application form whether or not a vacancy currently exists. Employment applications will be kept on file for one year and will be considered for appropriate job vacancies.