Lead Crew Worker
LAKES AND PINES C.A.C., INC.
1700 MAPLE AVENUE EAST
MORA, MINNESOTA 55051
320-679-1800
TITLE: Lead Crew Worker
SALARY RANGE: 7
CLASSIFICATION: 10
HOURS: Determined by Program
STATUS:

I. GENERIC DESCRIPTION
The Lead Crew Worker is responsible for installing devices and materials to reduce the infiltration of air and the loss of heat through the exterior of eligible dwellings. He/she will perform energy conservation measures to homes as delineated in work orders. He/she will also be responsible for providing leadership and directing the daily crew activities required under the Weatherization Program. This position is also responsible for the proper use and maintenance of Agency vehicles, safety equipment, hand tools and power equipment. The Lead Crew Worker is responsible for ensuring that all established production quotas are met and quality of workmanship is maintained.
A. Essential Functions
•
Support the mission of the Agency.
•
All essential functions of Crew Worker(s).
•
Provide leadership for assigned Crew Worker(s) to ensure:
-
Adherence to Agency Personnel Policies and Procedures and work rules.
-
Appropriate, safe and efficient use of labor, equipment and materials.
-
Proper maintenance of, and keep records for, materials, tools and equipment use.
-
Compliance with all safety rules and the appropriate use of safety equipment.
-
Instructs crew worker(s) on a daily basis about work activities that are to be performed.
•
Operate and maintain assigned Agency vehicle in a safe, legal and orderly manner and keep detailed vehicle mileage and maintenance records on a daily basis.
•
Evaluate work site and perform weatherization measures according to the Minnesota Weatherization Field Guide, the Standard Work Specifications, the National Energy Audit Tool, the Manufactured Home Energy Audit, and other audits adopted by the State Department.
•
Keep accurate and legible records of all materials installed in each dwelling. Fill out the weatherization work orders and inventory sheets on a daily basis.
•
Be able to correctly operate blower door and use pressure diagnostics to evaluate building shell.
•
Obtain required licenses and certifications as determined by Department Director.
•
Maintain assigned warehouse in an orderly manner and keep accurate records of all materials withdrawn from and placed in the warehouse on a daily basis and inform appropriate staff when material needs to be restocked.
•
Answer consumer questions about basic energy conservation ideas and methods.
•
Actively participate and assist in program staff meetings and training sessions.
•
Maintain consumer and personnel confidentiality.
•
Have knowledge of and apply Agency policies and procedures, including safety, technology, data practices and other applicable policy, procedure and program regulations.
•
Perform other essential duties assigned by supervisor.
B. Secondary Functions
•
Will perform all secondary job functions as assigned by supervisor.
III. ELIGIBILITY REQUIREMENTS
•
Must have three years' experience in the construction trades and be able to properly:
-
Caulk, foam, weatherstrip and seal air by-pass areas.
-
Repair or replace siding, roofing and foundation components.
-
Repair or replace entire door and window units.
-
Repair or replace entire storm window and storm door units.
-
Construct, using basic tools and materials, structural units of frame, roof, foundation, siding and openings of houses.
-
Install all forms of insulation and venting materials.
-
Conduct activities according to the Minnesota Weatherization Field Guide, the National Energy Audit Tool, and the Manufactured Home Energy Audit and any other audit provided.
•
Must possess good communication skills.
•
Must be able to work with a diverse population.
•
Must be able to work effectively and efficiently with minor supervision.
•
Must be able to meet the travel requirements of the position on a regular basis throughout the assigned area, including occasional travel for training in and outside of service area.
•
Must have a valid drivers license and any certifications deemed necessary by the Agency.
•
Must be sympathetic to consumer problems and advocate on their behalf.
•
Must be able to meet the physical demands of the position; operate all power tools and equipment required by job.
•
Must take and successfully pass a pre-employment drug test as a condition of employment per the Agency's personnel policies.
•
Is subject to a Criminal Background Check, the results of which are acceptable to the Agency.
•
Must be able to obtain medical examiner's certificate as required by the Department of Transportation (DOT). Agency will cover the cost for one Certified Medical Exam per qualifying time period; any identified health concerns necessary to be addressed or that requires additional testing for passing will be the responsibility of the employee.
IV. PHYSICAL REQUIREMENTS/DEMANDS
This position requires: Daily operation of a motor vehicle and entrance onto and into private property throughout the entire year. Consistent lifting of objects weighing up to 30 lbs., and occasional lifting of objects weighing up to 100 lbs and coordinated lifting of objects up to 300 lbs. Regular climbing of ladders. Displaying sound lifting and safety habits. Consistent bending, stooping, crawling, working on knees, entrance into/onto crawl spaces, attics, high areas, and areas that may be considered unclean or hot. Constant use of power and hand tools and exposure to sharp objects. Exposure to dust, volatile, caustic, or irritating substances and chemicals of moderate toxicity.

SUPERVISORY CONTROL
The Lead Crew Worker will be supervised by the Field Manager. The Energy-Housing Department Director is responsible for the overall administration of the Weatherization Program. The Agency Executive Director is ultimately responsible for the overall conduct of the Agency's programs.

EVALUATION
Job performance evaluations shall be conducted at the time intervals prescribed by the Agency's Personnel Policies and the Agency's Performance Evaluation form shall be utilized. Evaluations based on observation of the worker through job performance.

Additional Information
Lakes and Pines CAC reserves the right to revise this job description and change job duties and responsibilities as Agency and program(s) needs arise. This job description does not constitute a written or implied contract of employment; and provides a general overview of expectations of the position holder.
An Equal Opportunity Employer/Contractor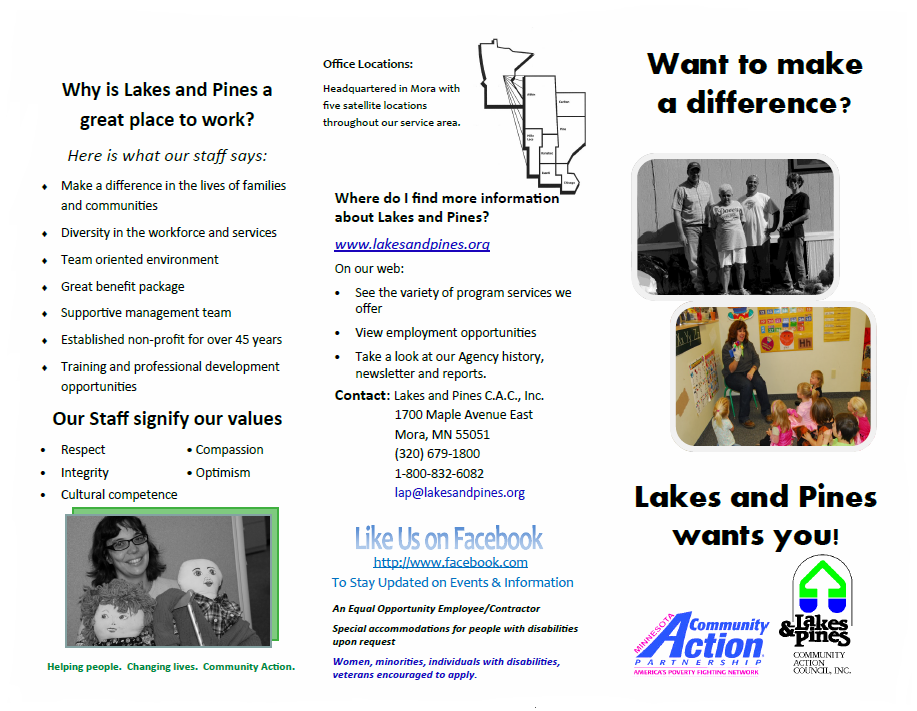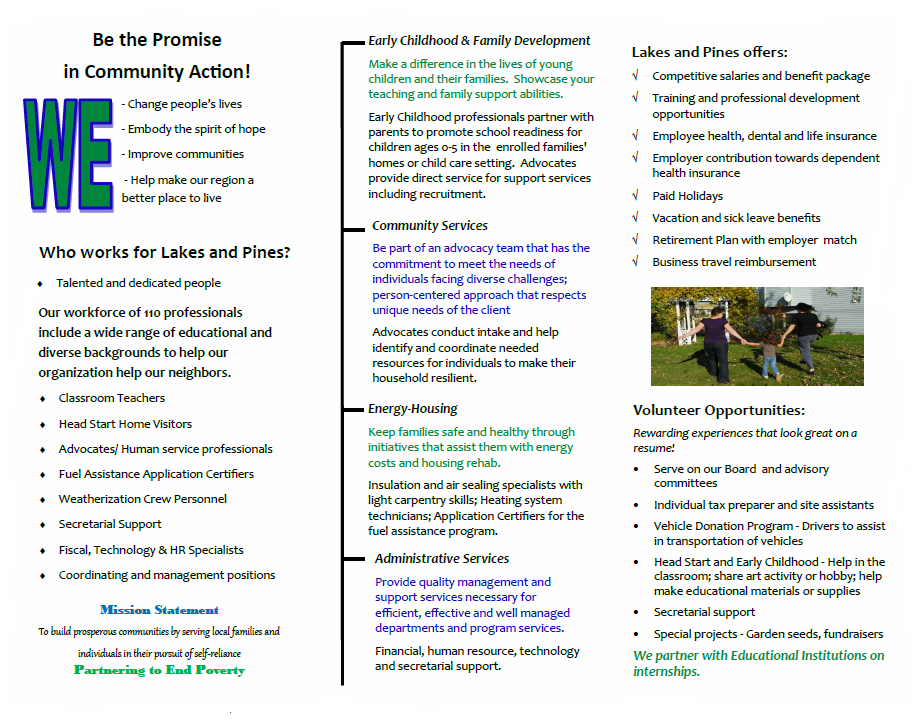 In accordance with federal and state laws, Lakes and Pines CAC is an equal opportunity employer, contractor and provider of services. The Agency will maintain a policy of non– discrimination with all employees and applicants for employment. All aspects of employment within the Agency will be governed on the basis of merit, competence and qualifications and will not be influenced in any manner by race, color, creed, religion, sex, age, national origin, disability, public assistance status, marital status, veteran status, sexual orientation, or gender identity,status as a parent, familial status, or in a local human rights commission or any other legally protected status.

If an applicant needs reasonable accommodations for the employment application process, please contact Lakes and Pines either by phone, mail, email or in person and request such consideration. (Such as sign language, interpreter, materials in large print, accessibility)

Individuals are encouraged to complete an Employment Application form whether or not a vacancy currently exists. Employment applications will be kept on file for one year and will be considered for appropriate job vacancies.