Heating System Technician
LAKES AND PINES C.A.C., INC.
1700 MAPLE AVENUE EAST
MORA, MINNESOTA 55051
320-679-1800
TITLE: Heating System Technician
SALARY RANGE: 7
CLASSIFICATION: 10
HOURS: Determined by Program
STATUS:

I. GENERIC DESCRIPTION
The Heating Systems Technician will perform diagnostic tests on household heating systems and other combustion appliances. Based on such diagnosis, the Technician will tune, repair, retrofit or replace components or units to meet current standards of efficiency and safety or recommend the services of private sector contractors to perform such functions. The Heating Systems Technician will also enter test data into computer software.
A. Essential Functions
•
Support the mission of the Agency.
•
Possess an excellent working knowledge of residential heating systems - wood, gas, electric, propane, oil and coal, plus water heaters - form, function, and repair.
•
Obtain any and all licenses as required by State and local building codes.
•
Test heating systems for efficiency, mechanical integrity, and safety. Prepare bid specifications for systems not meeting acceptable standards of efficiency, mechanical integrity, or safety.
•
Provide referral for heating services where health and safety is a factor for both current and potential clientele.
•
Use a personal computer to enter audit information on Weatherization Assistance software.
•
Become proficient at calculating the correct size furnace and ductwork for a household using Manual J, Manual S or other approved method.
•
Order through appropriate channels, and install units, parts and devices needed to accomplish the goals of the program.
•
Act as consultant to private sector contractors and ensure timely and correct installation of furnaces and/or repair parts.
•
Maintain in good working condition the assigned tools, equipment, and vehicle(s).
•
Submit a planned schedule of appointments to his or her supervisor. Accomplish the goals set forth on that schedule.
•
Must be able to legally and safely operate weatherization program vehicles.
•
Maintain accurate program records and data.
•
Present and review Contractor Manual with contractors at periodic training sessions.
•
Conduct energy audits as required by Conservation Improvement Program contracts with utility companies.
•
Maintain consumer and personnel confidentiality.
•
Keep all computer files on the Agency network.
•
Have knowledge and apply Agency policies and procedures, including safety, technology, data practices and other applicable policy, procedure and program regulations.
•
All other essential duties as assigned by supervisor.
B. Secondary Functions
•
Fill in for, or assist, weatherization crew workers as needed.
•
Provide training to Agency personnel or other individuals as assigned, to include training at State level.
•
Assist Program Manager in maintaining weatherization vehicles.
•
Will perform all secondary job functions as assigned by supervisor.
III. ELIGIBILITY REQUIREMENTS
•
Previous experience in the heating trade or previous certified training preferred.
•
High physical and manual dexterity skills.
•
The ability to use tools.
•
Ability to use mathematics and apply data and statistical systems.
•
Possess good communication skills.
•
Must be able to work with a diverse population.
•
Must possess good organizational and time management skills.
•
Must be able to meet the travel requirements of the position on a regular basis throughout the assigned area, valid driver's license and proof of insurability.
•
Must be able to maintain client confidentiality.
•
Working knowledge of a personal computer system.
•
Must take and successfully pass a pre-employment drug test as a condition of employment per the Agency's Personnel Policies.
•
Is subject to a Criminal Background Check, the results of which are acceptable to the Agency.
IV. PHYSICAL REQUIREMENTS/DEMANDS
This position requires: considerable travel, entrance onto private property, working in basements in varying degrees of disrepair and cleanliness, exposure to toxic and highly flammable substances, electrical systems and sharp objects, stooping, crawling, and bending, occasional lifting of objects weighing in excess of 100 lbs. Displaying sound lifting and safety habits.

SUPERVISORY CONTROL
The Heating Systems Technician is supervised by the Weatherization Program Manager. Department Director for the Energy-Housing Department is directly responsible for the administration of the Energy and Housing programs. The Executive Director is ultimately responsible for the overall conduct of the Agency's departments, programs, and projects.

EVALUATION
Job performance evaluation shall be conducted at the time intervals prescribed by the Agency's Personnel Policies, and the Agency's Performance Evaluation form shall be utilized. Evaluations are based on observation of the worker through job performance.

Additional Information
Lakes and Pines CAC reserves the right to revise this job description and change job duties and responsibilities as Agency and program(s) needs arise. This job description does not constitute a written or implied contract of employment; and provides a general overview of expectations of the position holder.
An Equal Opportunity Employer/Contractor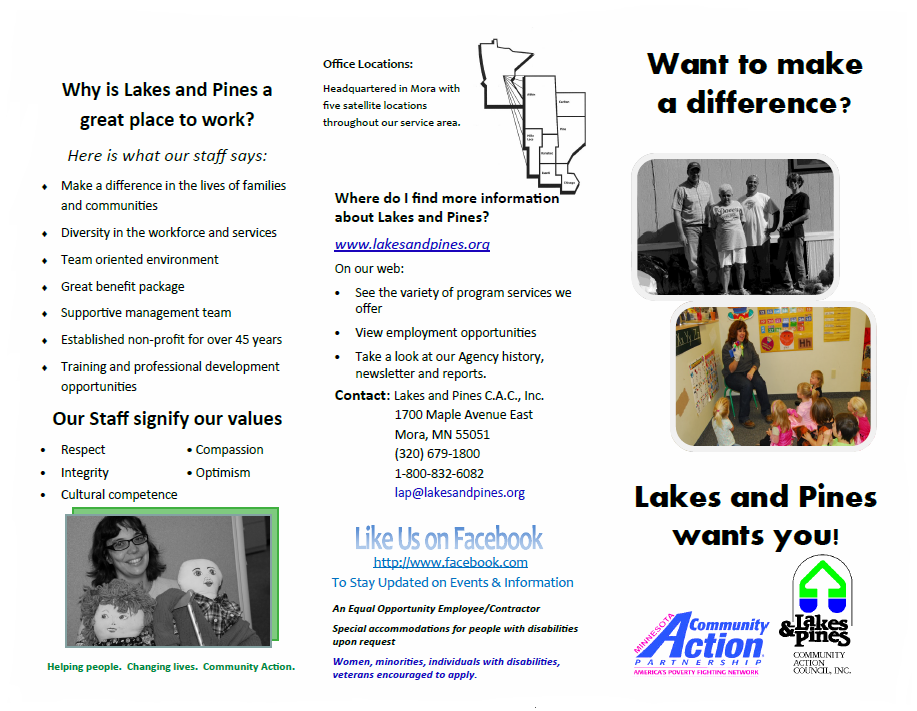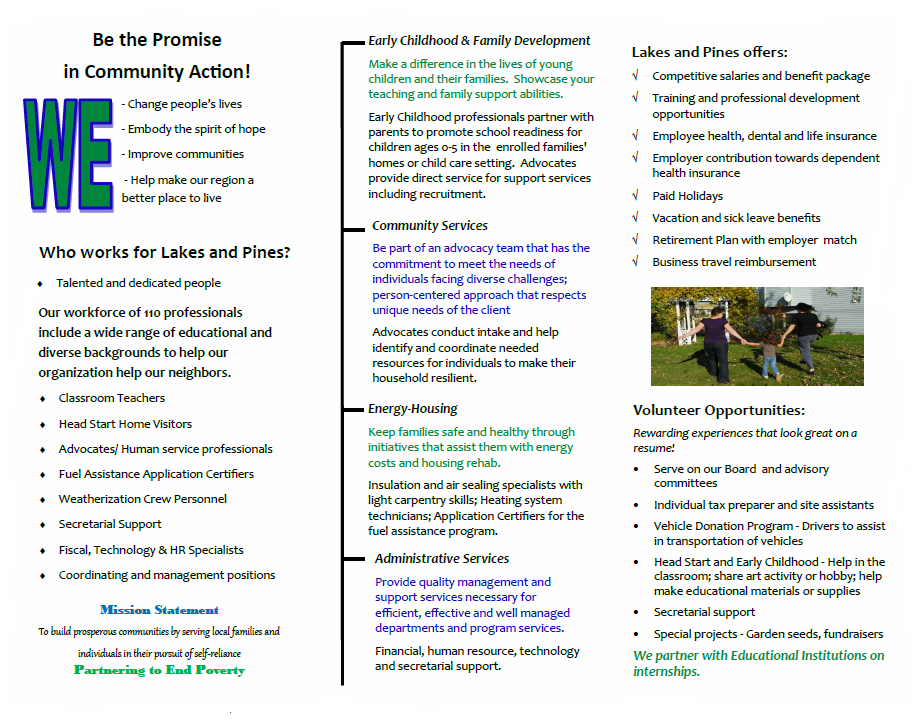 In accordance with federal and state laws, Lakes and Pines CAC is an equal opportunity employer, contractor and provider of services. The Agency will maintain a policy of non– discrimination with all employees and applicants for employment. All aspects of employment within the Agency will be governed on the basis of merit, competence and qualifications and will not be influenced in any manner by race, color, creed, religion, sex, age, national origin, disability, public assistance status, marital status, veteran status, sexual orientation, or gender identity,status as a parent, familial status, or in a local human rights commission or any other legally protected status.

If an applicant needs reasonable accommodations for the employment application process, please contact Lakes and Pines either by phone, mail, email or in person and request such consideration. (Such as sign language, interpreter, materials in large print, accessibility)

Individuals are encouraged to complete an Employment Application form whether or not a vacancy currently exists. Employment applications will be kept on file for one year and will be considered for appropriate job vacancies.