Fiscal Controller
LAKES AND PINES C.A.C., INC.
1700 MAPLE AVENUE EAST
MORA, MINNESOTA 55051
320-679-1800
TITLE: Fiscal Controller
SALARY RANGE: 12
CLASSIFICATION: 15
HOURS: Determined by Program
STATUS: Non-Exempt Position

I. GENERIC DESCRIPTION
The Fiscal Controller is responsible for keeping accurate records of all financial transactions of the Agency. The Fiscal Controller is responsible for providing timely, accurate reports on the financial status of the organization to the various funding agencies, the Executive Director, Department Directors and the Board of Directors. Responsible for the preparation and timely submission of all State and Federal Tax Reports as well as appropriate invoices as required. The Fiscal Controller is responsible for the supervision of the staff in the Fiscal Department and maintaining adequate internal control of various fiscal responsibilities. He/She will assist in the preparation of budgets. Property Control will also be the responsibility of this individual.
A. Essential Functions
•
Keep systematic and up-to-date records of the Agency's financial affairs.
•
Maintain and create analyses with various forms of exported data (text, pdf, Excel)
•
Advanced level Excel experience a must.
•
Maintains budgeting systems, which provide control of all expenditures made to carry out the Agency's activities.
•
Responsible for full cycle accounting (AR / AP / GL / Payroll)
•
Reviews bank reconciliations monthly.
•
Prepares cash collateralization schedule quarterly to record other banking activity.
•
Prepares self-insurance dental bank reconciliation and billing summary monthly.
•
Prepares all appropriate financial reports relative to assigned programs of operation to be submitted to the applicable funding source, Executive Director, Department Directors and Board of Directors.
•
Responsible for the review of Agency insurance coverages, plus, proration of applicable premium charges based on appropriate program exposure.
•
Oversees investments as authorized by the Executive Director.
•
Responsible for fiscal year Agency audit and Single audit(s). Review financials for 80+ programs, review or preparation of balance sheet reconciliations, program reconciliations, SEFA and other supporting schedules. Provide requested documentation during Field Audit.
•
Assist auditor with IRS Form 990 preparation.
•
Responsible for retirement plan audit by providing all financial records, reviewing the financial statement as prepared by the auditor, including the reconciliation of Form 5500 as prepared by a TPA.
•
Responsible for workers comp classification assignments, quarterly review, annual budget and year-end audit.
•
Responsible for unemployment insurance review, providing quarterly analysis and suggested program updates to the Executive Director.
•
Ensures monthly financial reports for individual programs are provided to Department Directors and the Board of Directors.
•
Ensures the invoices for all Programs are completed timely.
•
Maintains internal control of automated payroll system.
•
Review payroll timesheet reports before posting to ledger.
•
Prepare quarterly and year-end payroll reports.
•
Prepare ad-hoc reports.
•
Draft and update fiscal procedures and manual as necessary.
•
Responsible for comprehension and adherence to the Uniform Administrative Requirements, Cost Principles, and Audit Requirements a/k/a/ the Uniform Guidance; plus other reports as required.
•
All other essential duties as assigned by the Executive Director.
B. Secondary Functions
All other secondary functions as determined by the Executive Director.
III. ELIGIBILITY REQUIREMENTS
•
Must have at a minimum of three years proven administrative experience in a supervisory capacity, as well as experience and/or demonstrate knowledge of non-profit accounting practices.
•
Must have aptitude for budget control; must be able to evaluate budgets and fiscal information in relation to on-going program activities.
•
Preference given to holders of a Bachelor's Degree in business administration, accounting, public administration or related field from an accredited college or university. Proven or demonstrated ability and/or experience relative to the position may be considered in lieu of completed formal education.
•
Must be able to maintain confidences.
•
Must be able to communicate at a high rate of efficiency, both orally and in writing.
•
Must have the ability to delegate authority and responsibility.
•
Must be proficient in establishing and maintaining filing systems.
•
Is subject to a Criminal Background Check and Credit Check, the results of which are acceptable to the Agency.
•
Must have experience with Federal and State rules, regulations, standards, contract and Fiscal accountability procedures, preferably in non-profit area.
IV. PHYSICAL REQUIREMENTS/DEMANDS
Refers to the necessity for physical exertion in performing the duties of the position and the dexterity in limb or body movements necessary to satisfactory performance: For this position there is occasional light lifting, up to 30 pounds: continuous light work; skill, adeptness and speed in the use of fingers, hands or limbs on repetitive operation of office equipment or tools within moderate tolerance or limits of accuracy, stationary sitting for extended periods of time; limited travel via vehicle; limited bending, reaching and pulling to maintain and retrieve files.

SUPERVISORY CONTROL
The Fiscal Controller will be directly responsible to the Executive Director. The Executive Director is ultimately responsible for the overall conduct of the Agency's operation.

EVALUATION
Job performance evaluation will be conducted at the time intervals prescribed by the Agency's Personnel Policies. The standard Agency Performance Evaluation form will be utilized. NOTE: This job description is in no way intended to include all responsibilities of the position but rather to provide a general overview of what is expected of the position holder.

Additional Information
Lakes and Pines CAC reserves the right to revise this job description and change job duties and responsibilities as Agency and program(s) needs arise. This job description does not constitute a written or implied contract of employment; and provides a general overview of expectations of the position holder.
An Equal Opportunity Employer/Contractor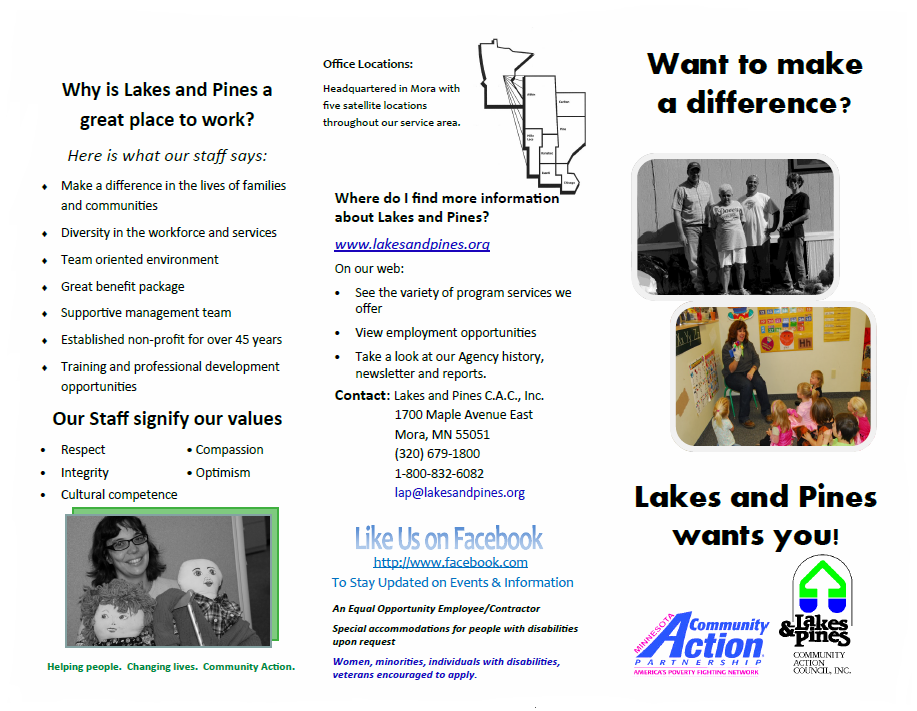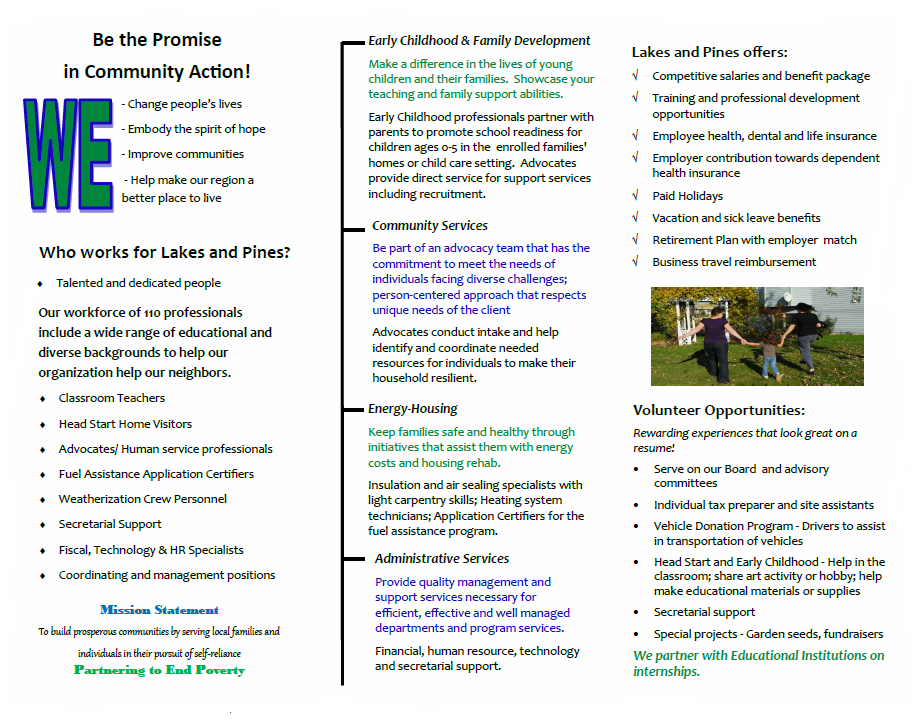 In accordance with federal and state laws, Lakes and Pines CAC is an equal opportunity employer, contractor and provider of services. The Agency will maintain a policy of non– discrimination with all employees and applicants for employment. All aspects of employment within the Agency will be governed on the basis of merit, competence and qualifications and will not be influenced in any manner by race, color, creed, religion, sex, age, national origin, disability, public assistance status, marital status, veteran status, sexual orientation, or gender identity,status as a parent, familial status, or in a local human rights commission or any other legally protected status.

If an applicant needs reasonable accommodations for the employment application process, please contact Lakes and Pines either by phone, mail, email or in person and request such consideration. (Such as sign language, interpreter, materials in large print, accessibility)

Individuals are encouraged to complete an Employment Application form whether or not a vacancy currently exists. Employment applications will be kept on file for one year and will be considered for appropriate job vacancies.