Financial Programs Assistant
LAKES AND PINES C.A.C., INC.
1700 MAPLE AVENUE EAST
MORA, MINNESOTA 55051
320-679-1800
TITLE: Financial Programs Assistant
SALARY RANGE: 5
CLASSIFICATION: 8
HOURS: Determined by Program
STATUS: Non‐Exempt Position

I. GENERIC DESCRIPTION
The Financial Programs Assistant is responsible for meeting the Agency's mission as a team member in a comprehensive approach to community building by assisting the Financial Programs Coordinator with the implementation and coordination of the financial programs provided by Lakes & Pines CAC, Inc. This position is also responsible for assisting in the recruitment of program volunteers and conducting outreach on the various programs offered by Lakes & Pines, including those related to Tax preparation, financial fitness, finances, budgeting and asset building. Integral to this position is continued support for the mission of the Agency and advocacy for low‐income persons.
A. Essential Functions
•
Support the Mission of the Agency through daily work and while representing the Agency in public.
•
Provide resources, support and encourage participants to long‐term commitments to increase income, decrease expenses and acquire assets through career improvement, financial education and public benefits access.
•
Deal discretely, tactfully and diplomatically with clients, co‐workers, volunteers, funders, community organizations, partners and government officials while maintaining client confidentiality and conducting oneself in a professional manner.
•
Have knowledge and apply Agency policies and procedures, including safety, technology, data practices and other applicable policy, procedure and program regulations.
•
Conduct outreach to potential financial program participants, volunteers, community organizations and service providers.
•
Assist with establishing new and maintaining existing partnerships and ongoing communication between the Agency and its partners for all financial programs.
•
Maintain regular communication in regards to financial program needs, issues and activities with program management and/or the Department Director.
•
Assist in the recruitment, training, and support of program volunteers.
•
Remain up‐to‐date with all required trainings, meetings, conferences, in relation to assigned financial programs or as assigned by program management and/or the Department Director.
•
Perform other essential job functions as assigned by supervisor and/or Department Director.
B. Secondary Functions
•
Maintain ability to identify potential Community Services Department program participants by:
-
Prioritizing participants from eligible applicants;
-
Conducting assessments and explaining program services;
-
Accurately reviewing, verifying, preparing, maintaining and submitting all necessary program documentation, in a timely manner, to determine eligibility;
-
Developing individualized plans including goals, strategies and time frames;
-
Evaluating level and type of supportive services based on participant's goals and program guidelines.
•
Completing the necessary case management and follow-up services that include:
-
Connecting the participant with and coordinating all relevant services;
-
Providing information and referrals to participants;
-
Advocating for the participant;
-
Maintaining contact with client verbally, in writing or in person through phone, email, post delivered letters or home visits;
-
Documenting all contacts, referrals and case management activities;
-
Entering client data into data collection systems, as requested;
-
Completing program reports, as requested.
•
Conduct public benefit program outreach, screenings and application assistance which may involve attending events and working from satellite offices throughout the service area.
•
Recognize existing and emerging needs of participants and communities and develop programmatic and resource recommendations to improve or develop programs.
•
Assess and recognize needs for professional development and research availability of resources or trainings to address emerging trends and issues.
•
Perform all secondary job functions, as assigned by supervisor and/or Department Director.
III. ELIGIBILITY REQUIREMENTS
•
High school diploma or G.E.D required.
•
Post-secondary degree or 2-4 years of experience working in a related field preferred.
•
Proficient math and computer skills required and knowledge of Microsoft Office programs.
•
Ability to work and communicate effectively with diverse individuals and low-income persons in the office, home and public environment.
•
Excellent organizational and time management skills with the ability to be self-directed.
•
Ability to work under demanding time schedules and workloads while maintaining outward professionalism.
•
Experience with property and income tax preparation, or an awareness of tax credits for low-wage earners is preferred.
•
Must be able to meet the travel requirements and work schedule flexibility of the position, which may involve evening and weekend commitments.
•
Subject to a criminal background check, the results of which are acceptable to the Agency.
IV. PHYSICAL REQUIREMENTS/DEMANDS
•
Requires occasional light lifting, up to 30 pounds.
•
Periods of travel via vehicle or public transportation and occasional air travel for business.
•
Stationary sitting for extended periods of time.
•
Extended periods of telephone and computer usage.
Additional Information
Lakes and Pines CAC reserves the right to revise this job description and change job duties and responsibilities as Agency and program(s) needs arise. This job description does not constitute a written or implied contract of employment; and provides a general overview of expectations of the position holder.
An Equal Opportunity Employer/Contractor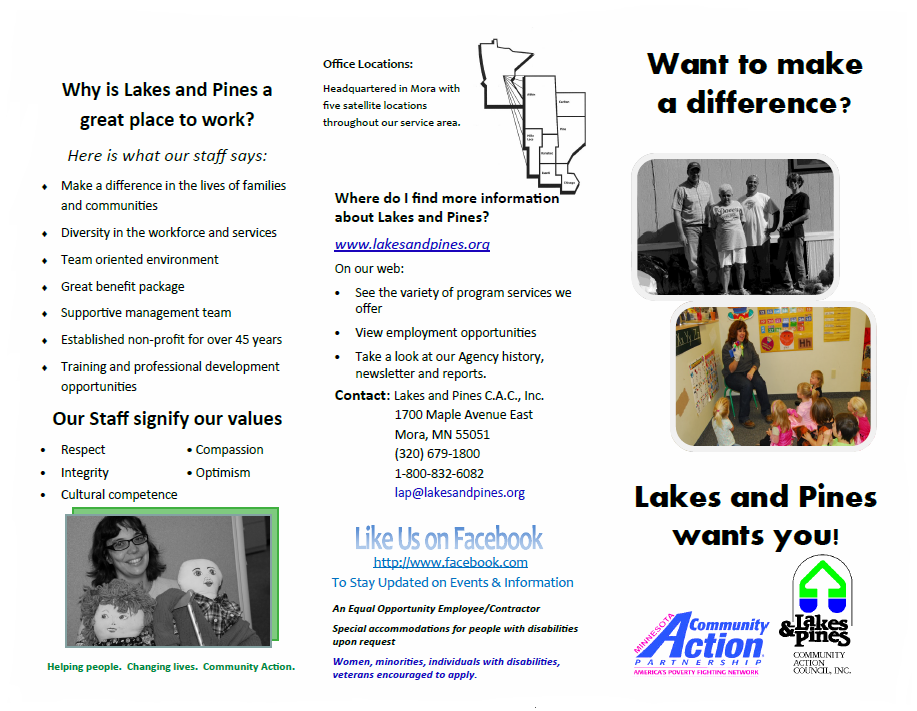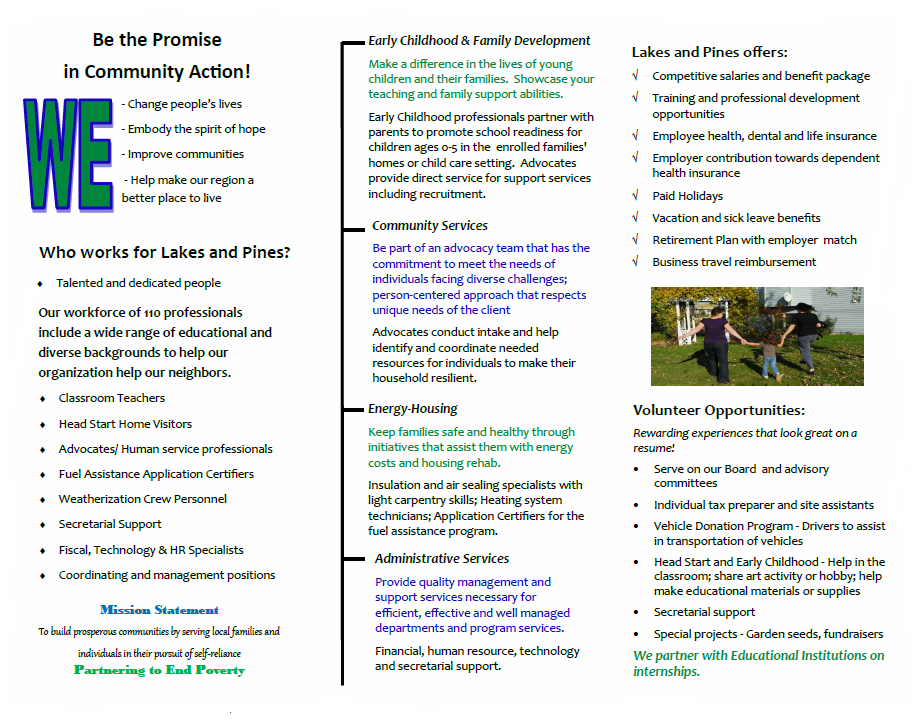 In accordance with federal and state laws, Lakes and Pines CAC is an equal opportunity employer, contractor and provider of services. The Agency will maintain a policy of non– discrimination with all employees and applicants for employment. All aspects of employment within the Agency will be governed on the basis of merit, competence and qualifications and will not be influenced in any manner by race, color, creed, religion, sex, age, national origin, disability, public assistance status, marital status, veteran status, sexual orientation, or gender identity,status as a parent, familial status, or in a local human rights commission or any other legally protected status.

If an applicant needs reasonable accommodations for the employment application process, please contact Lakes and Pines either by phone, mail, email or in person and request such consideration. (Such as sign language, interpreter, materials in large print, accessibility)

Individuals are encouraged to complete an Employment Application form whether or not a vacancy currently exists. Employment applications will be kept on file for one year and will be considered for appropriate job vacancies.