Special Services Coordinator
LAKES AND PINES C.A.C., INC.
1700 MAPLE AVENUE EAST
MORA, MINNESOTA 55051
320-679-1800
TITLE: Special Services Coordinator
SALARY RANGE: 7
CLASSIFICATION: 10
HOURS: Determined by Program
STATUS:

I. GENERIC DESCRIPTION
The Special Services Coordinator is responsible for planning, implementing, and evaluating the Special Services Area; the services provided to each enrolled Head Start child, and coordinating those services with all Head Start Service Areas and the community as a whole. Monitor Developmental and Social Emotional screenings and provide services to all children in relation to their gifts and talents.
A. Essential Functions
•
Adhere to and be able to articulate Program philosophy, Head Start Performance Standards, Head Start Service Area Plans, personnel and administrative policies, Agency Mission Statement, Blood Borne Pathogens Policy, Americans with Disabilities Act Amendments Act (ADAAA) Policy, and Data Privacy Policy; and utilize when performing responsibilities.
•
Support the mission of the Agency.
•
Attend staff meetings, and participate in training programs offered by the Agency.
•
Participate in Lakes and Pines' committees as assigned/designated.
•
Maintain confidentiality and professionalism in performing responsibilities.
•
Complete a Professional Development Plan and review with supervisor regularly.
•
Mentor staff by conducting scheduled classroom observations and small group activities.
•
Actively participate in Program recruitment activities.
•
Be an active team member with co-workers and partners, if applicable, in accomplishing Program goals, objectives, and assignments.
•
Research and locate viable partners and maintain a listing of providers who are readily available to provide services such as small group activities/meetings with staff and perform diagnostic observations.
•
Work with Mental Health providers to negotiate Mental Health contracts and to ensure delivery of services consistent with the terms written in the contract.
•
Coverage in classrooms as assigned by supervisor.
•
Maintain all applicable required records and submit all applicable reports, data entry, and paperwork in a timely manner as required by supervisor.
•
Ensure that all facets of the Special Services Service Area meet or exceed Head Start Performance Standards.
•
Ensure all practices and documents reflect a person first philosophy.
•
Conduct Home Visit, Socialization, and classroom observations for families of children with special needs.
•
Participate in Developmental and Social Emotional screenings as needed.
•
Inventory, prioritize, and make recommendations to purchase special services, materials based upon need and Head Start Performance Standards.
•
Monitor the implementation of Individual Education Plans (IEPs), Individual Family Service Plans (IFSPs), Individual Child Care Program Plan (ICCPPs) or Individual Interagency Intervention Plans (IIIPs) for children with disabilities.
•
Serve as a resource person for Program staff, family members and other community groups on special services.
•
Provide support visits to center sites on a regularly scheduled basis.
•
Review and revise annually, in cooperation with other staff, the special services Plans.
•
Foster working relationships with other special education and mental health service providers in the seven-county area.
•
Provide training to partnership providers as assigned.
•
Attend Special Education Cooperative (SPED) Meetings as assigned.
•
Update and maintain records for children with suspected or verified special needs.
•
Review files and diagnostic information for children with special needs and give feedback to families, direct service staff and support staff.
•
Provide training for Program personnel, contracted partners and parents of enrolled children.
•
Ensure staff receive training on Early Childhood screening procedures and obtain necessary materials.
•
Ensure that the 45 day Screening Performance Standard is met for all enrolled children and that re-screening is completed as is required by the Screening instrument protocol.
•
Ensure special services area integration with other Program Service Areas.
•
Discuss with staff individual children's screening results that identify a developmental concern.
•
Make appropriate referrals to the Help Me Grow system for additional assessments as identified from screening.
•
Conduct research on resources for staff and families.
•
First point of contact as the ASQ Online Program Administrator. Required to manage and monitor ASQ entries into the system.
•
Coordinate and attend internal behavior plan meetings between Agency staff and parents.
•
Participate in screening efforts with LEAs as required.
•
Obtain verification of disabilities on all enrolled children diagnosed with a disability.
•
Integrate Mental Health activities into Home Visits, Socializations, classrooms, and Parent groups.
•
Create and maintain an accurate electronic succession plan for your position.
B. Secondary Functions
Perform other secondary duties as assigned by the Early Childhood Development Manager and/or the Early Childhood and Family Development Department Director.
III. ELIGIBILITY REQUIREMENTS
•
Requires a Bachelor's degree in Early Childhood Education or Pre-Kindergarten Licensure, with experience working with children with special needs.
•
Must have appropriate experience in working with low-income families.
•
Must demonstrate a sensitivity to the overall problems and needs of low-income people.
•
Must have the ability to be flexible.
•
Must have organizational and planning ability.
•
Must be physically able to relate to and manage children on an individual and group basis.
•
Must have the ability and willingness to work independently with a minimum of supervision.
•
Must be able to meet the travel requirements of the position, including occasional travel out of the service area for meetings, workshops, conferences, overnights, etc.
•
Is subject to a Criminal Background Check, the results of which are acceptable to the Agency.
IV. PHYSICAL REQUIREMENTS/DEMANDS
•
Requires occasional light lifting up to fifty (50) pounds; display sound lifting and safety habits.
•
Extensive periods of travel via vehicle or public transportation, including air travel.
•
Stationary sitting for extended periods of time.
SUPERVISORY CONTROL
The Special Services Coordinator is directly responsible to the Manager of Early Childhood Development, who is responsible to the Early Childhood and Family Development Department Director and/or his/her designee. The Agency Executive Director is ultimately responsible for the overall conduct of the Agency's programs.

EVALUATION
•
Performance Evaluations are conducted after a six-month provisional period, and Performance Evaluations are done at least annually thereafter.
•
Appraisals are based on observation of the Special Services Coordinator, analysis of the effectiveness of the Program, and through an appraisal conference between the Manager of Early Childhood Development and the Disabilities/Literacy Coordinator.
•
Performance Evaluations will utilize the Agency's and Program's forms.
•
Factors to be considered during the Performance Evaluation are:
•
How well is he/she able to accept directions and supervision?
•
Can he/she get along with others in a work situation?
•
Can he/she effectively communicate orally and in writing.
•
Has he/she been able to establish and maintain a good working relationship with the families and agencies with whom he/she comes in contact?
•
Does he/she have a good understanding of the Head Start Program?
•
Has he/she been able to analyze a situation and make timely decisions?
•
Has he/she been able to inspire respect among staff, and able to motivate them?
•
Is he/she able to report objectively the progress of his/her Service Area?
•
Is he/she well organized, and able to follow through with implementation of plans?
•
Are Service Area records maintained, completed accurately, and submitted in a timely manner?
•
How well does he/she communicate/work with other team members?
Additional Information
Lakes and Pines CAC reserves the right to revise this job description and change job duties and responsibilities as Agency and program(s) needs arise. This job description does not constitute a written or implied contract of employment; and provides a general overview of expectations of the position holder.
An Equal Opportunity Employer/Contractor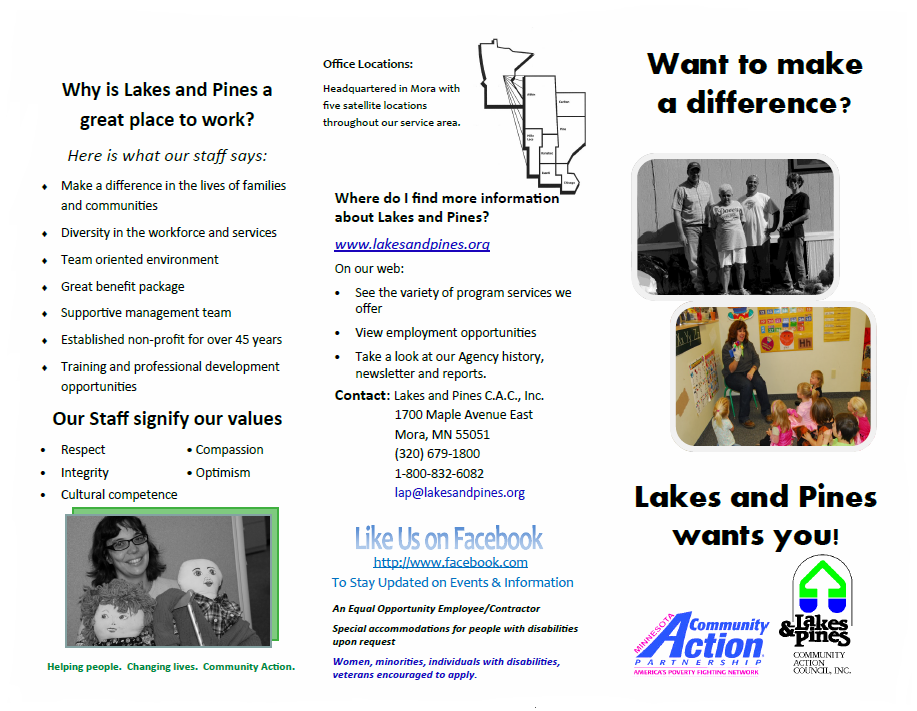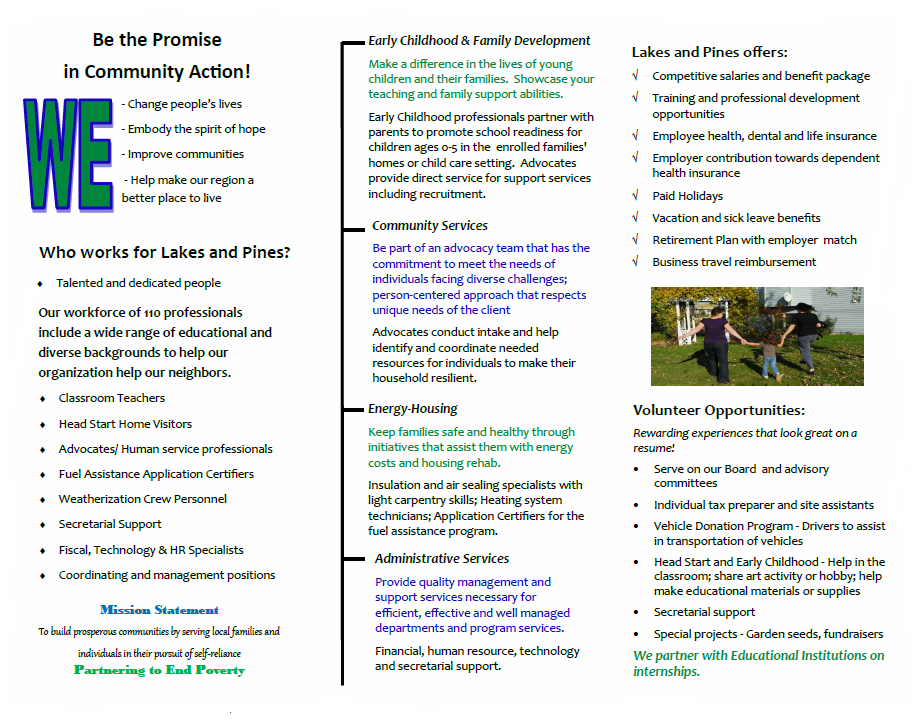 In accordance with federal and state laws, Lakes and Pines CAC is an equal opportunity employer, contractor and provider of services. The Agency will maintain a policy of non– discrimination with all employees and applicants for employment. All aspects of employment within the Agency will be governed on the basis of merit, competence and qualifications and will not be influenced in any manner by race, color, creed, religion, sex, age, national origin, disability, public assistance status, marital status, veteran status, sexual orientation, or gender identity,status as a parent, familial status, or in a local human rights commission or any other legally protected status.

If an applicant needs reasonable accommodations for the employment application process, please contact Lakes and Pines either by phone, mail, email or in person and request such consideration. (Such as sign language, interpreter, materials in large print, accessibility)

Individuals are encouraged to complete an Employment Application form whether or not a vacancy currently exists. Employment applications will be kept on file for one year and will be considered for appropriate job vacancies.