Special Services Coordinator
TITLE: Special Services Coordinator
DEPARTMENT: Early Childhood & Family Development
REPORT TO: Manager of Early Childhood Development

SALARY RANGE: 7
CLASSIFICATION: 10
STATUS: Non-Exempt Position

The Special Services Coordinator is responsible for planning, implementing, and evaluating the Special Services Area, the services provided to each enrolled Head Start/Early Head Start child, and coordinating those services with all Service Areas and the community as a whole. Also responsible for monitoring Developmental and Social Emotional screenings and providing services to all children in relation to their gifts and talents. The Special Services Coordinator is responsible for the direct supervision of the Early Childhood Resource Coach(es).
Education
•
Bachelor's degree in a related field equivalent knowledge base gained through lived experience or through formal schooling, independent study, short course or other applicable arrangements.
Education may be waived with significate job related experience
Work Environment
•
Conventional – Office model
•
Activity-Based – Workers can switch between different workspaces.
•
Hybrid – Flexible work model that is a blend of in-office, remote, and/or on-the-go.
SKILLS, ABILITIES, & OTHER KNOWLEDGE
Skills
•
Excellent oral and/or written communications skills.
•
Ability to manage time that results in both a satisfactory quantity and quality of work.
Ability
•
Support the Mission of the Agency through daily work and while representing the Agency in public.
•
Have general knowledge of programs and activities of the Agency.
•
Demonstrated ability to work independently and as a team member.
•
Must be able to handle diverse work problems on a daily basis.
•
Must be able to organize a work schedule, set priorities and work effectively to meet deadlines without supervision.
•
Must be able to adjust to changes necessitated by last minute assignments and deadlines requests that may prove stressful.
•
Ability to effectively work across differences, especially socio-economic and cultural differences.
•
Attend trainings, classes and meetings as necessary to improve job skills and maintain an acceptable level of job performance.
•
Serve as a mentor for new staff.
Other Knowledge
•
Have knowledge and apply Agency policies and procedures, including safety, technology, data practices and other applicable policy, procedure and program regulations.
•
Understand numbers and mathematical concepts.
•
Knowledge of public and private sources of debt equity and subsidy.
•
Working knowledge of child abuse laws, Head Start Performance Standards, State licensing requirements, United States Department of Agriculture guidelines and community resources.
•
Working Knowledge of Creative Curriculum and Desired Results Developmental Profile.
PRIMARY DUTIES & RESPONSIBILITIES
This job description is not intended to be all-inclusive and employee will also perform other reasonably related business duties as assigned.
Area 1: Program Operations
•
Reinforce, through implementation of all aspects of the Program, the role of parents as primary educator of their children.
•
Role model appropriate adult/child interaction consistent with established Early Childhood Best Practices.
•
Ensure that the forty-five day Screening Performance Standard is met for all enrolled children and that re-screening is completed as is required by the Screening instrument protocol.
•
Participate in Developmental and Social Emotional screenings as needed.
•
Participate in screening efforts with Local Education Agencies (LEAs) as required.
•
Review files and diagnostic information for children with special needs and give feedback to families, direct service staff and support staff.
•
Discuss with staff individual children's screening results that identify a developmental concern. Ensure staff receive training on Early Childhood screening procedures and obtain necessary materials.
•
Research and locate viable partners and maintain a listing of providers who are readily available to provide services such as small group activities/meetings with staff and perform diagnostic observations.
•
Conduct research on resources for staff and families.
•
Serve as a resource person for Program staff, family members and other community groups on special services.
•
Coverage in classrooms as assigned by supervisor.
•
Provide support visits to center sites on regularly scheduled basis.
•
Conduct Home Visit, Family Play Day, and classroom observations for families of children with special needs.
•
Inventory, prioritize, and make recommendations to purchase special services materials based upon need and Head Start Performance Standards.
•
First point of contact as the ASQ Online Program Administrator. Required to manage and monitor ASQ entries into the system.
•
Monitor the implementation of Individual Education Plans (IEPs), Individual Family Service Plans (IFSPs), Individual Child Care Program Plan (ICCPPs) or Individual Interagency Intervention Plans (IIIPs) for children with disabilities.
Area 2: Program Compliance
•
Adhere to and be able to articulate and utilize when performing responsibilities:
-
Head Start Performance Standards
-
Head Start Service Area Plans
-
Personnel and Administrative policies
-
Agency Mission Statement
-
Blood Borne Pathogens Policy
-
Americans with Disabilities Act Amendments Act (ADAAA) Policy
-
Minnesota Statute Rule 9502 (Rule 2)/9503 (Rule 3)/245A
•
Ensure Special Services Area integration with other Program Service Areas.
•
Ensure that all facets of the Special Services Service Area meet or exceed Head Start Performance Standards.
•
Review and revise annually, in cooperation with other staff, the Special Services Plan to ensure accurate alignment with Head Start Program Performance Standards and Program policies and procedures.
•
Articulate and carry out appropriate emergency procedures.
•
Complete a Professional Development Plan and review with supervisor regularly.
Area 3: Program Development
•
Attend staff and community meetings, and participate in training programs offered by the Agency.
•
Attend Special Education Cooperative (SPED) meetings as assigned.
•
Coordinate and attend internal behavior plan meetings between Agency staff and parents.
•
Be an active team member with co-workers and partners, if applicable, in accomplishing Program goals, objectives and assignments.
•
Provide training for Program personnel, contracted partners, partnership providers, and parents of enrolled children as assigned.
•
Mentor staff by conducting scheduled classroom observations and small group activities.
•
Foster working relationships with other special education and mental health service providers in the seven-county area.
•
Work with Mental Health providers to negotiate Mental Health contracts and to ensure delivery of services consistent with the terms written in the contract.
•
Participate in developing appropriate in-service, child development and pre-service training sessions for Education Staff.
•
Participate in Lakes and Pines committees as assigned/designated.
Area 4: Program Communication
•
Actively participate in Program recruitment and marketing activities.
•
Ensure all practices and documents reflect a person first philosophy.
•
Maintain all applicable required records, and submit all applicable reports, data entry, and paperwork in a timely manner as required by supervisor.
•
Update and maintain records for children with suspected or verified special needs.
•
Obtain verification of disabilities on all enrolled children diagnosed with a disability.
•
Make appropriate referrals to the Help Me Grow system for additional assessments as identified from screening.
•
Create and maintain an accurate electronic succession plan for your position.
•
Provide direct supervision to the Early Childhood Resource Coach(es).
•
Conduct regular meetings for supervised staff.
•
Provide recommendations for Training and Technical Assistance opportunities.
•
Must complete an annual performance evaluation for each staff supervised.
•
Must complete a Professional Development Plan for each staff supervised.
Supervision of Others
•
Responsible for assigning, instructing, and checking the work of 1 to 3 other employees in 2 or more geographic location
Safety of Others
•
Responsible for the safety of others on the job. Provides oversight of work groups and/or public served. Implements and enforces safety standards for self and others.
Contacts
•
Contact is both inside and outside the agency, and may include formal presentations.
Physical Demand
•
Must be able to lift 50 pounds.
•
Requires sitting, standing, bending, stooping and reaching.
•
Physical ability to operate equipment specific to your position.
Travel
•
Must have reliable transportation.
•
Must have valid driver's license and current auto insurance coverage in compliance with Minnesota State guidelines on the vehicle used for work related travel.
•
Travel for completion of job duties, trainings and meetings as required.
GENERAL AGENCY REQUIREMENTS
Professionalism
•
Maintain positive work atmosphere by behaving and communicating in a manner that fosters good relations with customers, co-workers, providers, volunteers and supervisors.
•
Treat customers, co-workers and public in a respectful and courteous manner at all times.
•
Continue to develop skills and abilities.
Community Representation
•
Represent Lakes and Pines Community Action, Inc. in a positive manner.
•
Adhere to the Community Action Code of Ethics.
•
Seek to understand poverty and barriers faced by community members.
Confidentiality
•
Maintain confidentiality of agency, program and customer information.
An Equal Opportunity Employer/Contractor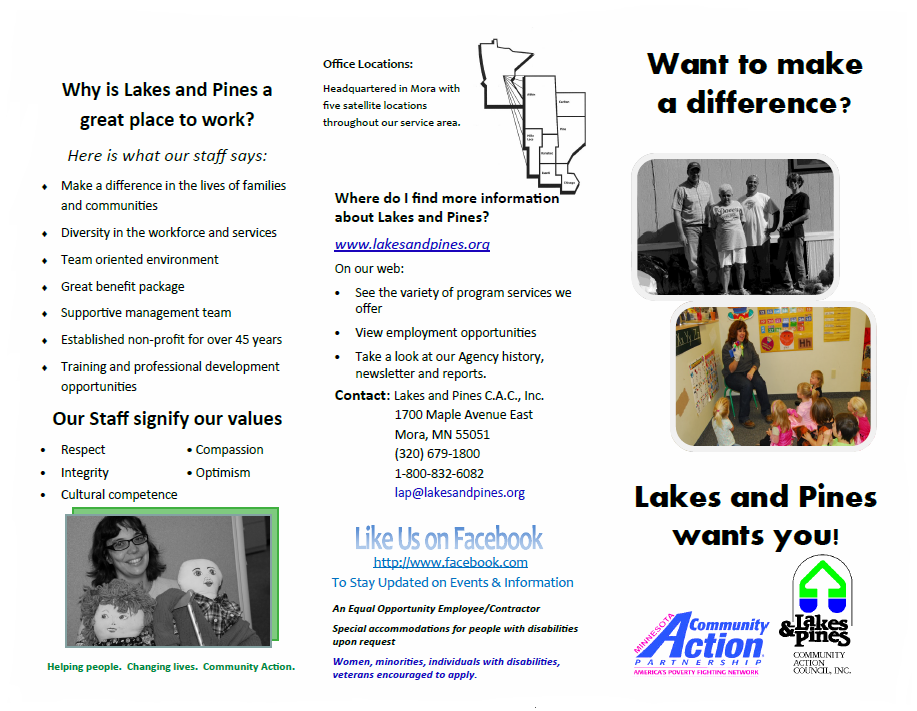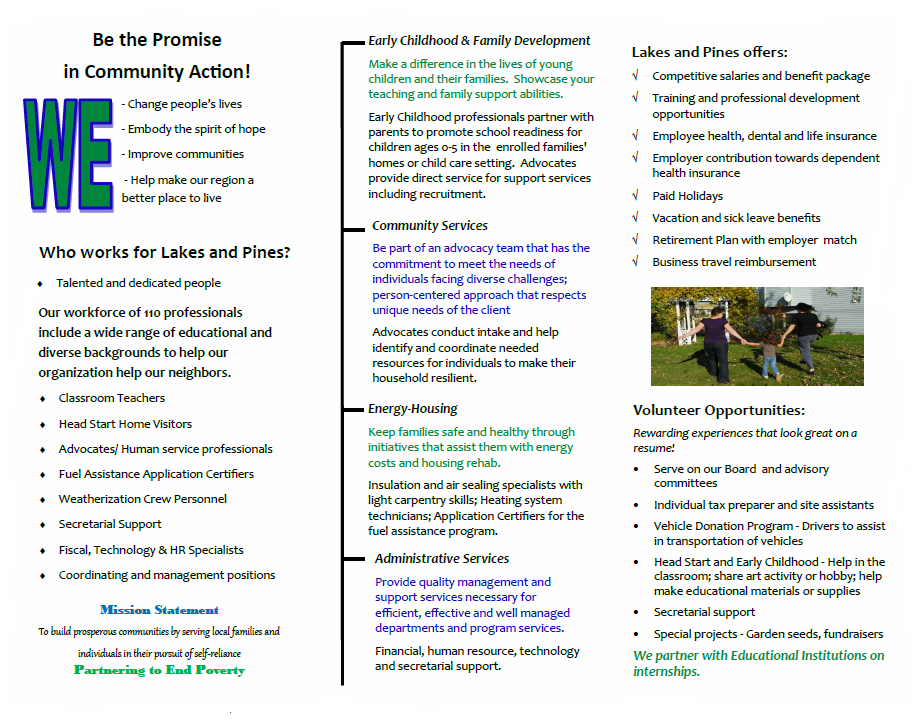 In accordance with federal and state laws, Lakes and Pines CAC is an equal opportunity employer, contractor and provider of services. The Agency will maintain a policy of non– discrimination with all employees and applicants for employment. All aspects of employment within the Agency will be governed on the basis of merit, competence and qualifications and will not be influenced in any manner by race, color, creed, religion, sex, age, national origin, disability, public assistance status, marital status, veteran status, sexual orientation, or gender identity,status as a parent, familial status, or in a local human rights commission or any other legally protected status.

If an applicant needs reasonable accommodations for the employment application process, please contact Lakes and Pines either by phone, mail, email or in person and request such consideration. (Such as sign language, interpreter, materials in large print, accessibility)

Individuals are encouraged to complete an Employment Application form whether or not a vacancy currently exists. Employment applications will be kept on file for one year and will be considered for appropriate job vacancies.