Department Administrative Assistant
LAKES AND PINES C.A.C., INC.
1700 MAPLE AVENUE EAST
MORA, MINNESOTA 55051
320-679-1800
TITLE: Department Administrative Assistant
SALARY RANGE: 8
CLASSIFICATION: 11
HOURS: Determined by Program
STATUS: Non-Exempt Position

I. GENERIC DESCRIPTION
The Department Administrative Assistant is responsible for assisting the Department Director in all matters of Department business, including general operations of the Department, as so assigned and/or directed by the Department Director.
A. Essential Functions
•
Supports the Mission of the Agency and goals of the Department.
•
Will perform high level administrative secretarial duties with proficient speed, accuracy and professionalism.
•
Will supervise other Department secretarial staff.
•
Oversees the maintenance of entire Department filing systems; ensures that all files are kept current and accurate.
•
Primary position to ensure maintenance for electronic document imaging/filing for the Department. Ensure appropriate training of personnel for electronic filing.
•
Responsible for Department Employment posting and tracking, ensuring all Agency policies and procedures are followed.
•
Responsible for Department's secretarial tasks on the Agency's computer system and/or Agency's tracking system, to include word processing, spreadsheet, database, program tracking systems, statewide client systems, etc.
•
Oversees completion of client, fiscal and program management forms for data entry and processing relevant to the Department.
•
Assists Department Director in the responsibility of all Department/program reports; must have knowledge of timeframes and ensure submission of reports.
•
Keeps current on all Department funding sources' regulations, policies and directives.
•
Responsible for individual Department inventory of equipment and supplies.
•
Responsible for ensuring proper Agency fiscal procedures are followed on all Department purchases.
•
Accepts the responsibilities of Department Director in his/her absence; including supervision of entire department activities and staff.
•
Represents the Department Director as his/her delegate when he/she is unable to attend meetings.
•
Will do public speaking on behalf of the Department Director.
•
Notifies the Department Director of any violations of program staff relative to Agency Personnel Policies, Agency Inter-office procedures and/or program operational/management procedures.
•
Assists the Department Director in program meetings or activities to include such items as attending meetings, taking of minutes, presentation of agenda items, arranging meeting facilities, etc.
•
Accepts and schedules appointments for the Department Director.
•
Has knowledge of inter-agency and community programs for appropriate referrals of clientele.
•
Assists managers and supervisors to ensure that Department staff know their job responsibilities and authority of chain-of-command.
•
Assists in orientation and on-going training of Department personnel, includes telecommunications and PC systems.
•
Responsible for Department incoming mail/outgoing mail delivery.
•
Assists in the development and implementation of Department's operation forms and procedural manuals.
•
Operates all office machines, including personal computer system. Will have excellent working knowledge of a variety of PC software packages for efficient Department operations. Will have good working knowledge of voice messaging system.
•
May assist the Department Director in interviewing and evaluating program personnel. Primary staff person in tracking statistics and data for Affirmative Action Reporting.
•
Responsible for opening and securing the Department facility area, including office equipment, entry ways, and files.
•
Have knowledge and apply Agency policies and procedures including safety, technology, data practices and other applicable policy, procedure and program regulations.
•
Responsible for submission of Department's copier count, copier maintenance, etc.
•
Other essential job functions as assigned by supervisor.
B. Secondary Functions
•
May be required to assist the clientele in the completion of program application form(s).
•
May be required to answer Agency-wide multi-line phone system for the Central office or Department in the absence of the Agency Receptionist/Program Receptionist.
•
Other secondary functions as assigned by supervisor.
III. ELIGIBILITY REQUIREMENTS
•
Must have a minimum three years' previous experience as a personal secretary and/or administrative assistant.
•
Must hold at a minimum a high school diploma or GED; additional training and/or Experience required; post-secondary classroom training.
•
Must be able to maintain confidences.
•
Must be able to communicate at a high level.
•
Must be able to work directly with the public and be capable of public speaking.
•
Must be willing to engage in training opportunities, attend conferences, and travel for Agency program business as directed and required by position.
•
Experience in anti-poverty programming preferred. Private non-profit experience preferred.
•
Must possess supervisory abilities.
•
Must at all times be courteous to the public, supportive of Agency programs and the Agency as a whole.
•
Experience with accounting procedures.
•
Must be able to type accurately and with a high level of efficiency using a standard keyboard.
•
Must be proficient in establishing and maintaining filing systems.
•
Personal computer system knowledge and experience required: word processing, spreadsheet, Internet, etc.
•
Is subject to a Criminal Background Check, the results of which are acceptable to the Agency.
Additional Information
Lakes and Pines CAC reserves the right to revise this job description and change job duties and responsibilities as Agency and program(s) needs arise. This job description does not constitute a written or implied contract of employment; and provides a general overview of expectations of the position holder.
An Equal Opportunity Employer/Contractor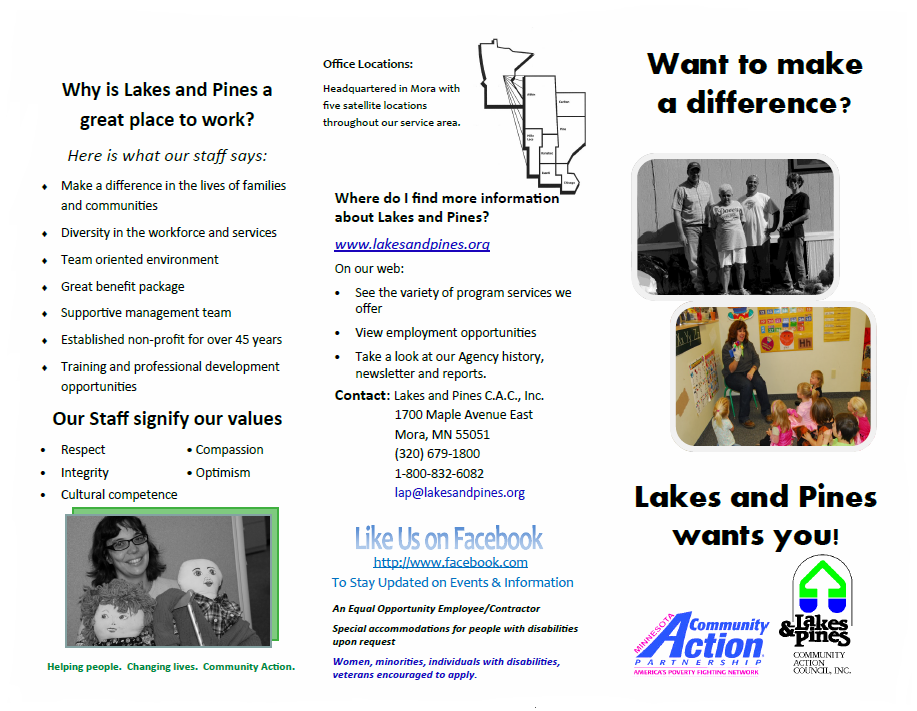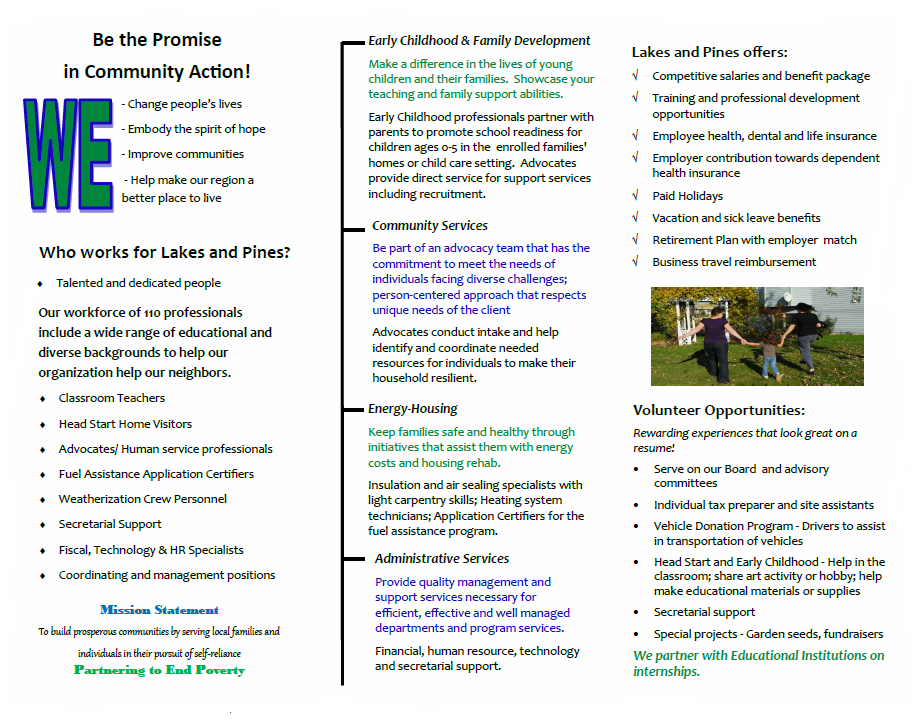 In accordance with federal and state laws, Lakes and Pines CAC is an equal opportunity employer, contractor and provider of services. The Agency will maintain a policy of non– discrimination with all employees and applicants for employment. All aspects of employment within the Agency will be governed on the basis of merit, competence and qualifications and will not be influenced in any manner by race, color, creed, religion, sex, age, national origin, disability, public assistance status, marital status, veteran status, sexual orientation, or gender identity,status as a parent, familial status, or in a local human rights commission or any other legally protected status.

If an applicant needs reasonable accommodations for the employment application process, please contact Lakes and Pines either by phone, mail, email or in person and request such consideration. (Such as sign language, interpreter, materials in large print, accessibility)

Individuals are encouraged to complete an Employment Application form whether or not a vacancy currently exists. Employment applications will be kept on file for one year and will be considered for appropriate job vacancies.