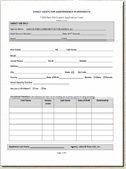 Family Assets for Independence in Minnesota Application
Family Assets for Independence in Minnesota (FAIM) accounts, also known as Individual Development Accounts (IDA's), provides opportunities to working Minnesotans with low incomes to increase their savings, build assets and enter the financial mainstream.
The FAIM program is a matched savings project that helps Minnesota resident low-wage earners build assets in the State through:
• purchase of a first home
• pursuit of a higher education
• launch of a small business
• purchase of a personal vehicle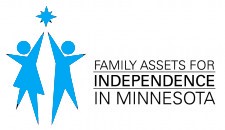 This is accomplished by the participant depositing up to $84 monthly from their earned income into a Family Asset Account (custodial savings account). The participant has up to 24 months to save (up to $2,000 maximum savings per household in a lifetime). Participant savings may be matched by the program at a rate of 3:1 (up to $6,000 maximum match per household in a lifetime) upon successful completion of their Contract Agreement. The participant is required to complete final payment and exit the program within a maximum of 30 months from his/her first deposit date, or the end of the grant, whichever comes first.
All participants accepted to the FAIM program are required to complete a 12-Hour Financial Literacy course, in addition to 10 hours of asset-specific training.
ELIGIBILITY
The current general and income guidelines to qualify for participation in the FAIM program at Lakes and Pines are:
• Age 18 years or older
• Must have some source of earned income. Earned income can be from recycling aluminum, snow shoveling, babysitting or other self-employment
• Have earned income at the time of enrollment and to save in your FAIM account
• Be a resident of Aitkin, Carlton, Chisago, Isanti, Kanabec, Mille Lacs, or Pine counties at time of participation in FAIM
• Have assets of $10,000 or less. This does not include your home or one vehicle.
• Have combined income at or below 200% of poverty (for example, a household of two with gross income at or below $32,920, income guidelines for other size households can be found in the FAIM brochure, link below))
• Must not be in default of student loans
• No IRS tax liens
---
START TODAY BY completing the FAIM Pre-Screening process. Call Sandra at 320-679-1800, Ext 1975. Plan on one-half hour to 45 minutes for pre-screening.