Certifier I
LAKES AND PINES C.A.C., INC.
1700 MAPLE AVENUE EAST
MORA, MINNESOTA 55051
320-679-1800
TITLE: Certifier I
SALARY RANGE: 1
CLASSIFICATION: 4
HOURS: Determined by Program
STATUS: Non-Exempt Position

I. GENERIC DESCRIPTION
The Certifier I's primary responsibility will be to review and process Energy Assistance Program consumer applications for completeness and to process household data on the computer system, to determine eligibility for program assistance. The position holder will also assist with file maintenance, outreach activities, and actively refer households to other programs.
II. SPECIFIC DESCRIPTION
Certifier I is responsible for the following tasks:
A. Essential Functions
•
Support mission of the Agency and the goals of the Department.
•
Learn and apply Agency policies and procedures, including safety, technology, data practices and other applicable policy, procedure and program regulations.
•
Must maintain consumer and personnel confidentiality.
•
Must keep all computer files and documents on the Agency's network.
•
Be aware of and actively refer consumers to other programs, within the Agency or without, to increase their self-sufficiency.
•
When speaking to consumers, over the phone or in person, you must maintain a pleasant and professional attitude.
•
Learn to accurately apply all Federal and State program regulations pertaining to the Energy Assistance Program, Energy Assistance Application, and Certification process.
•
Will learn to assist consumers with completing a variety of forms or applications to assist with reducing energy burdens.
•
Learn to accurately certify applications primarily through the Agency's document imaging/filing system.
•
Must complete all forms legibly and accurately within the Agency's document imaging/filing system and in eheat software.
•
Maintain accuracy to all documents and applications within the Agency's computer network, document imaging/filing system, and eheat.
•
Learn to accurately determine income and consumer information for completeness prior to determination.
•
Learn to enter consumer information accurately in eheat software and checking that all information has been updated or removed prior to benefit determination.
•
Learn to enter accurate consumption data into eheat software when necessary.
•
Required to learn and accurately track all A16 activities and submit the information.
•
Must learn to make sure all relevant documentation and notes are present prior to benefit determination.
•
Will assist with ERR and Crisis processes as it pertains to this position.
•
Other tasks as assigned by supervisor.
B. Secondary Functions
•
May be required to direct clients and answer Agency-wide multi-line phone system for the Central office or Department in the absence of the Agency Receptionist/Program Receptionist.
•
Will perform secondary job functions as assigned by supervisor.
III. ELIGIBILITY REQUIREMENTS
•
Must have working knowledge of computers and ability to file data electronically.
•
Must have a high school diploma or the equivalent.
•
Must have good math skills.
•
Must be able to maintain accurate and legible records.
•
Must possess good communication skills, verbal and written.
•
Must have the ability to understand State and Federal regulations for EAP operations.
•
Must be able to follow office procedures.
•
Must be able to travel for work assignments, i.e. training, outreach, meetings, intake process, as assigned by supervisor.
•
Must have ability to relate and communicate with consumers.
•
Must be able to work with diverse populations.
•
Must be respectful to all staff within the Agency.
•
Must be respectful and clean up after yourself when using Agency common areas and grounds.
IV. PHYSICAL REQUIREMENTS/DEMANDS
This position requires performing light lifting up to 30 pounds on an occasional basis; displaying sound lifting and safety habits; sitting for extended periods of time with intensive data entry requirements; occasional motor vehicle travel for business.

SUPERVISORY CONTROL
The Certifier I shall be directly supervised by the Energy Programs Director. The Energy Programs Director is responsible for the administration of the energy programs. The Agency Executive Director is ultimately responsible for the overall conduct of the Agency Programs.

EVALUATION
Job performance evaluation will be conducted at the time intervals prescribed by the Agency's Personnel Policies and the Agency's Performance Evaluation form shall be utilized. Evaluations are based on observations of the worker through job performance.

Additional Information
Lakes and Pines CAC reserves the right to revise this job description and change job duties and responsibilities as Agency and program(s) needs arise. This job description does not constitute a written or implied contract of employment; and provides a general overview of expectations of the position holder.
An Equal Opportunity Employer/Contractor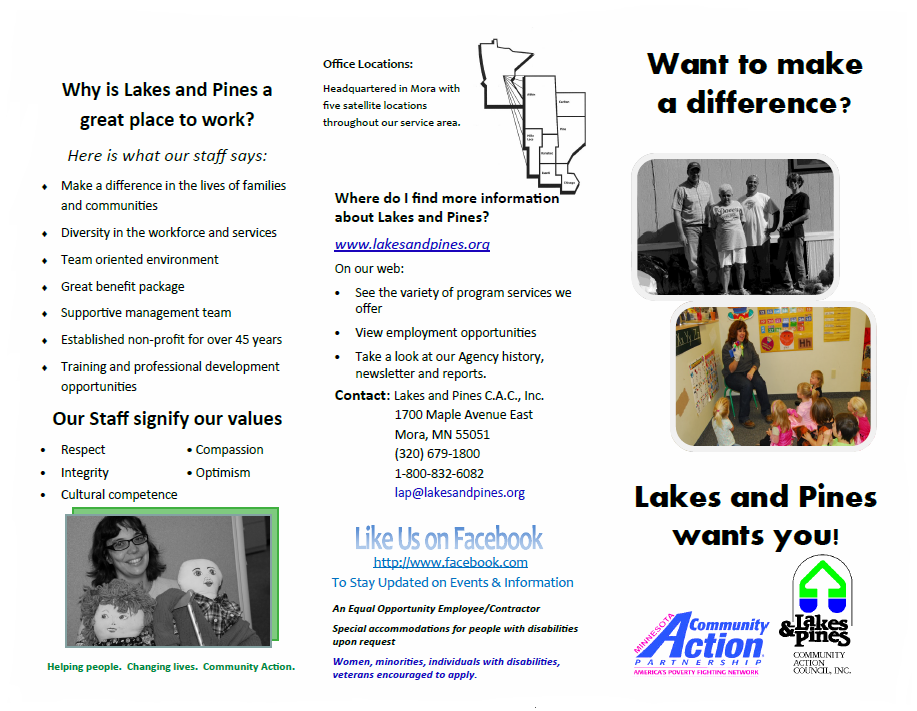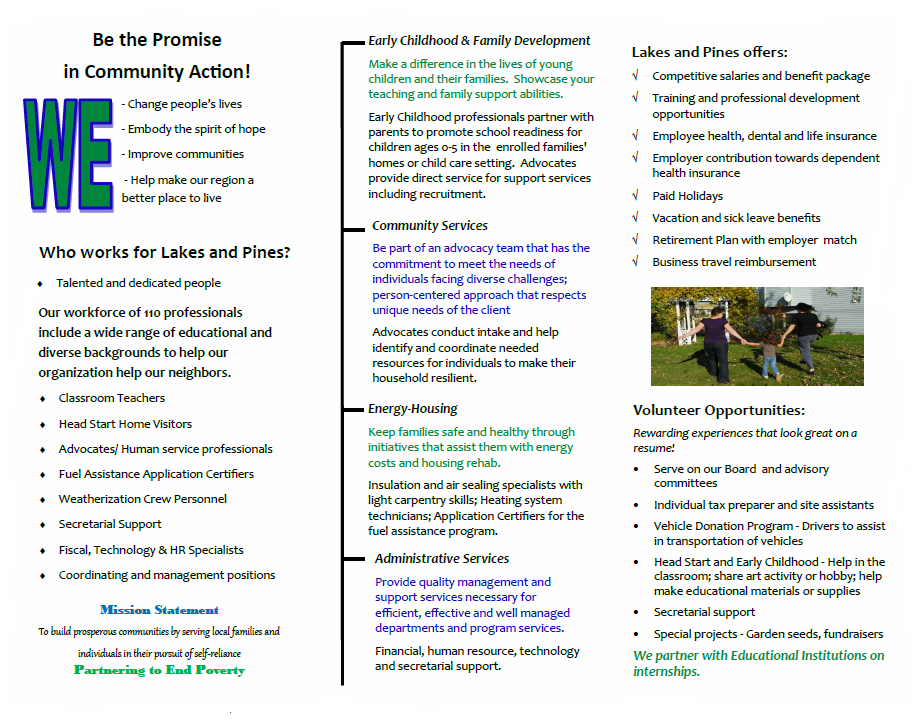 In accordance with federal and state laws, Lakes and Pines CAC is an equal opportunity employer, contractor and provider of services. The Agency will maintain a policy of non– discrimination with all employees and applicants for employment. All aspects of employment within the Agency will be governed on the basis of merit, competence and qualifications and will not be influenced in any manner by race, color, creed, religion, sex, age, national origin, disability, public assistance status, marital status, veteran status, sexual orientation, or gender identity,status as a parent, familial status, or in a local human rights commission or any other legally protected status.

If an applicant needs reasonable accommodations for the employment application process, please contact Lakes and Pines either by phone, mail, email or in person and request such consideration. (Such as sign language, interpreter, materials in large print, accessibility)

Individuals are encouraged to complete an Employment Application form whether or not a vacancy currently exists. Employment applications will be kept on file for one year and will be considered for appropriate job vacancies.