Family Advocate
LAKES AND PINES C.A.C., INC.
1700 MAPLE AVENUE EAST
MORA, MINNESOTA 55051
320-679-1800
TITLE: Family Advocate
SALARY RANGE: Per Union Contract
CLASSIFICATION: AFSCME Council 65
HOURS: Per Bargaining Unit Agreement
STATUS: Non-Exempt Classification

I. GENERIC DESCRIPTION
The Family Advocate is responsible for the outreach and recruitment of families into the Program. He or she will assist parents in organizing local parent groups, write reports, and refer individual cases to supervisor or appropriate community agencies, as well as provide direct services.
A. Essential Functions
•
Adhere to and be able to articulate Program philosophy, Head Start Performance Standards, personnel and administrative policies, Agency Mission Statement, Blood Borne Pathogens Policy, Americans with Disabilities Act Amendments Act (ADAAA) Policy, and Data Privacy and Affirmative Action Policies; and utilize when performing responsibilities.
•
Support the mission of the Agency.
•
Maintain confidentiality and professionalism in performing responsibilities.
•
Maintain knowledge of area resources and how to access them in the areas they serve and make referrals as needed.
•
Be able to articulate and carry-out appropriate emergency procedures.
•
Be available to make presentations to organizations and agencies.
•
Attend staff meetings and participate in training programs offered by the Agency.
•
Actively participate in Program recruitment activities.
•
Recruit eligible children, pregnant women and maintain a waiting list.
•
Work with other staff to ensure that applicable Head Start Performance Standards are met within the assigned caseload, particularly around Health, Social Services and Parent Engagement.
•
Be an active team member with co-workers, Agency Wide Advocates, and partners, if applicable, in accomplishing Program goals, objectives, and assignments.
•
Assist with all the duties for an absent Family Advocate as assigned.
•
Work cooperatively with Home Visitors, Classroom Teachers, Leads, and other Service Area staff to access resources as needed, for each family.
•
Be involved in assigned communities through frequent and regular connections with various organizations and agencies.
•
Role model appropriate adult/child interaction consistent with established Early Childhood Best Practices.
•
Make written referrals to agencies or programs as necessary, and document in case notes.
•
Document referrals and concerns in case notes to ensure that the needed assistance is obtained by each family.
•
Provide social service contact or Home Visit after enrollment to each Home-Based family as requested, needed, or assigned; and document on family case notes.
•
Accompany assigned families to various appointments as needed.
•
Work closely with assigned families and school districts to facilitate transitions.
•
Attend meetings specific to individual family services.
•
Assist Head Start parents with information on the availability and functions of the local parent group.
•
Provide a minimum of two (2) social service contacts/home visits after enrollment for each Center or Family Child Care family or more as requested, needed, or assigned; and document on family case notes.
•
Assist Home Visitors and Home Based Leads in obtaining physicals, dentals, and establishing medical home(s) to meet Program Standards. This includes follow up work for all children enrolled in home based options.
•
Obtain physicals, dentals, and establish medical home(s) to meet Program Standards. This includes follow up work for all children enrolled in center based options.
•
Ensure all children receive a hearing and vision screening prior to forty-five (45) days of entry into the program and yearly thereafter. Set goals with center based families using the family outcomes process and document ongoing progress three times per year.
•
Facilitate communication between families and center partnerships.
•
Assist in organizing local parent meetings, and provide training for each parent group consistent with parenting curriculum.
•
Maintain all applicable required records, and submit all applicable reports, data entry, and paperwork in a timely manner as required by supervisor.
•
Review the waiting list regularly and maintain and complete updates as needed.
•
Complete a Professional Development Plan and review with supervisor regularly.
III. ELIGIBILITY REQUIREMENTS
•
Requires a High School Diploma or equivalency.
•
Must be willing and able to enroll in a certificate or degree program related to social, human, or family services if not possessed and must complete within one year of hire.
•
Must have ability to communicate verbally with adults as well as children and in writing to various reading levels.
•
Must have a genuine interest and concern for people.
•
Must possess initiative, be responsible, and have the ability to be flexible.
•
Must be able to meet the travel requirements of the position, including occasional travel out of the service area for meetings, workshops, conferences, overnights, etc.
•
Is subject to a Criminal Background Check, the results of which are acceptable to the Agency.
IV. PHYSICAL REQUIREMENTS/DEMANDS
•
Requires occasional light lifting up to fifty (50) pounds; display sound lifting and safety habits.
•
Requires extensive automobile travel; must be physically able to sustain such travel.
EVALUATION
•
Performance Evaluations are conducted after a six-month provisional period, and Performance Evaluations are done at least annually thereafter.
•
Appraisals are based on observation of the Family Advocate by the assigned supervisor, analysis of the effectiveness of their work in the Program, and through an appraisal conference.
•
Performance Evaluations will utilize the Agency's and Program's forms.
•
Factors to be considered during the appraisal are:
-
How well does he/she follow written and verbal instructions?
-
How well does he/she relate the concepts and principles of the Agency and Program?
-
How sensitive and responsive is he/she to the problems of the people in the target area?
-
Is he/she able to recruit and involve people in the Head Start Program?
-
Are written referrals being made when necessary?
-
How well are educational topics being presented to local parent groups?
-
Have direct social service benefits been obtained by the families?
-
Are required records maintained, completed accurately, and submitted in a timely manner?
-
How well does he/she communicate/work with other team members?
Additional Information
Lakes and Pines CAC reserves the right to revise this job description and change job duties and responsibilities as Agency and program(s) needs arise. This job description does not constitute a written or implied contract of employment; and provides a general overview of expectations of the position holder.
An Equal Opportunity Employer/Contractor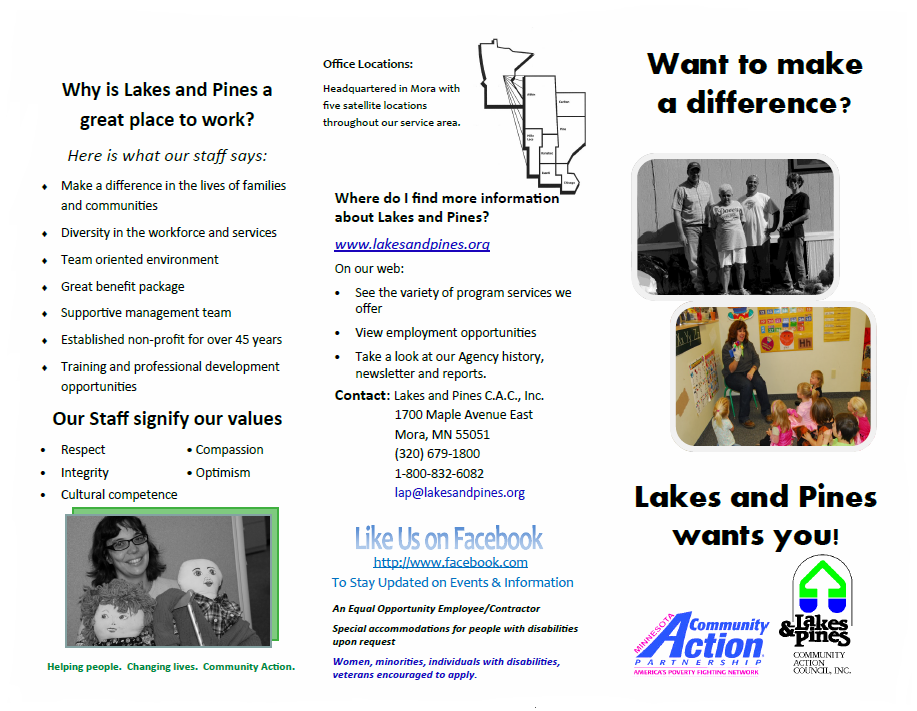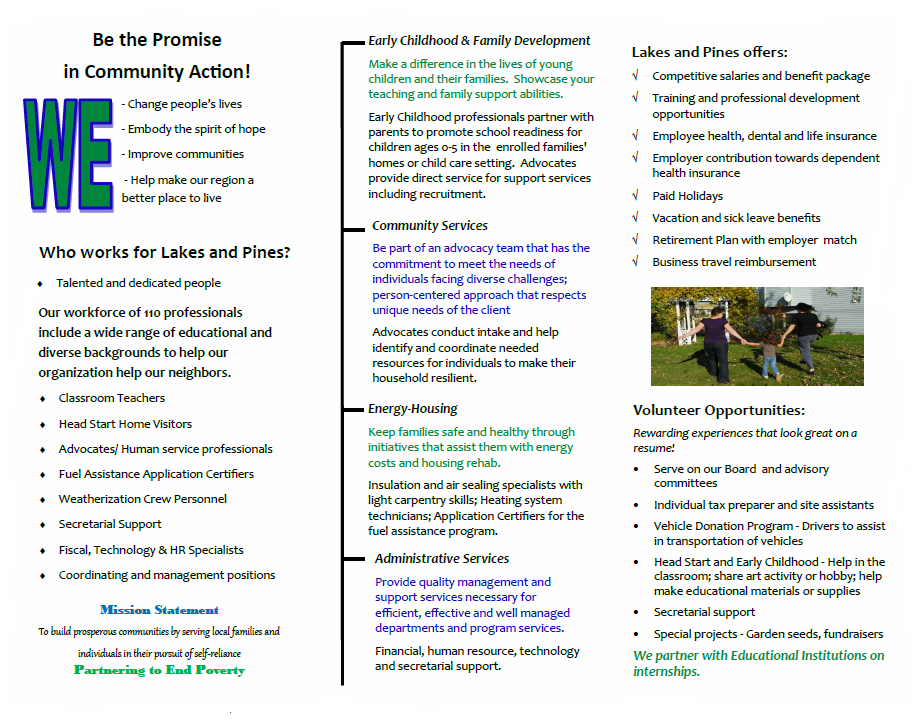 In accordance with federal and state laws, Lakes and Pines CAC is an equal opportunity employer, contractor and provider of services. The Agency will maintain a policy of non– discrimination with all employees and applicants for employment. All aspects of employment within the Agency will be governed on the basis of merit, competence and qualifications and will not be influenced in any manner by race, color, creed, religion, sex, age, national origin, disability, public assistance status, marital status, veteran status, sexual orientation, or gender identity,status as a parent, familial status, or in a local human rights commission or any other legally protected status.

If an applicant needs reasonable accommodations for the employment application process, please contact Lakes and Pines either by phone, mail, email or in person and request such consideration. (Such as sign language, interpreter, materials in large print, accessibility)

Individuals are encouraged to complete an Employment Application form whether or not a vacancy currently exists. Employment applications will be kept on file for one year and will be considered for appropriate job vacancies.