Head Start Family Advocate
Head Start is looking for a Family Advocate to connect with parents and provide referrals and resources to community organizations based on families' needs. They support and assist parents in crisis situations. They are active and visible in the community by conducting outreach activities to communicate the benefits and services of Head Start to individuals and community groups in an effort to market the Program and recruit eligible families. They conduct home visits and facilitate parent groups at the socializations. The Family Advocate position requires a High School Diploma or equivalency. Preferred education includes an Associates or Bachelor's degree in Child and Family Studies, Social Work, or Family/Human Services. Must have a genuine interest and concern for people, possess initiative, be responsible, have the ability to be flexible, be sensitive to the lifestyles and needs of low-income clientele, and must be a team player.

Application deadline : 12:00 p.m., December 12, 2014.
Applicants to complete Agency's Employment Application.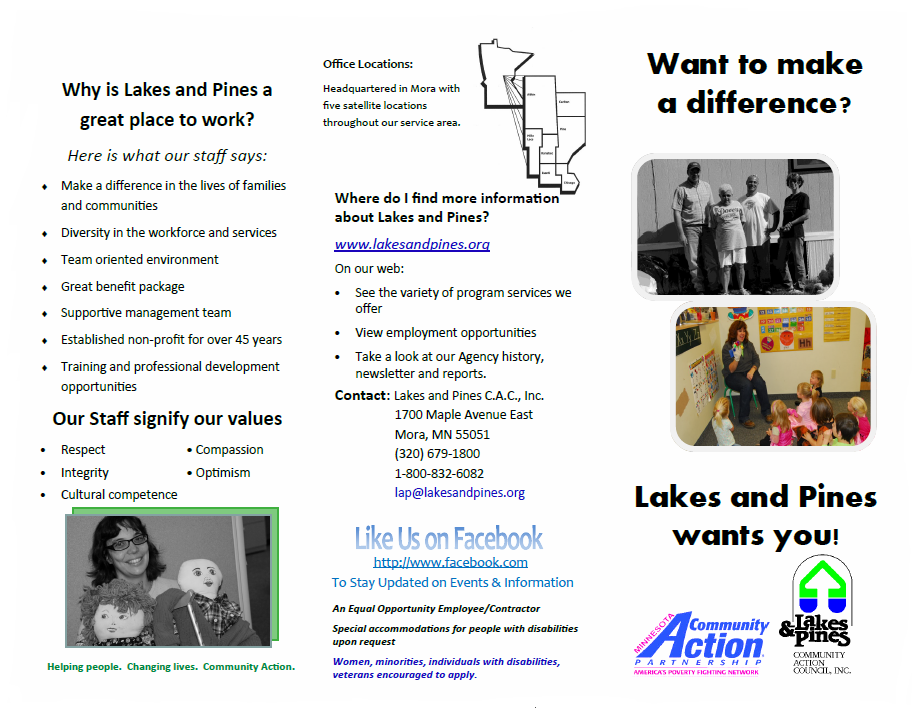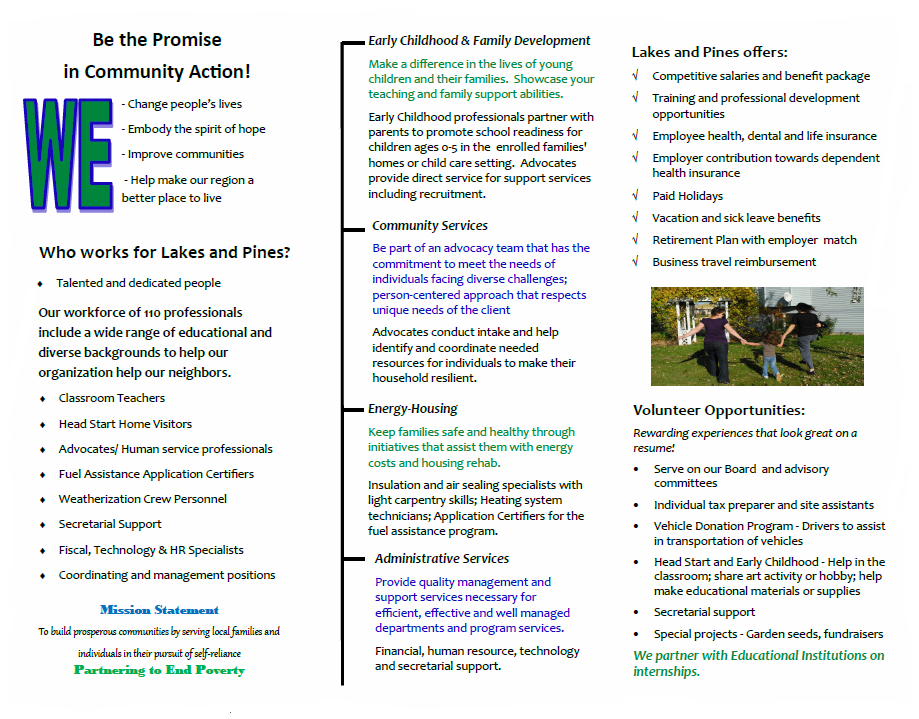 Lakes and Pines CAC is an equal opportunity employer. The Agency will maintain a policy of non– discrimination with all employees and applicants for employment. All aspects of employment within the Agency will be governed on the basis of merit, competence and qualifications and will not be influenced in any manner by race, color, creed, religion, sex, age, national origin, disability, public assistance status, marital status, veteran status, sexual orientation, status as a parent, or in a local human rights commission.

If an applicant needs reasonable accommodations for the employment application process, please contact Lakes and Pines either by phone, mail, email or in person and request such consideration. (Such as sign language, interpreter, materials in large print, accessibility)

Individuals are encouraged to complete an Employment Application form whether or not a vacancy currently exists. Employment applications will be kept on file for one year and will be considered for appropriate job vacancies.