Early Childhood & Family Development Department Director
Lakes and Pines, CAC, a private non-profit organization, is seeking a professional to lead the Early Childhood and Family Development Department. The Department Director must ensure all applicable laws, regulations and performance standards as prescribed by Federal and State regulations are followed within Agency policies and procedures. They must ensure compliance with Federal Head Start Performance Standards and all other Program requirements. Must have the ability to develop and manage program budgets, grant proposals, work plans and contracts. The Director is responsible for the hiring, training and supervising of Department personnel.

Applicant must have a minimum of three years proven administrative experience in a supervisory capacity, as well as experience and/or demonstrated knowledge of non-profit administration practices. Preference given to holders of a Bachelor's Degree from an accredited college or university. Proven or demonstrated ability and experience relative to the position may be considered in lieu of completed formal education. Applicant is subject to Criminal Background Check, the results of which are acceptable to the Agency. Compensation is dependent on qualifications; Full Time Position with Benefit Package. Minorities are encouraged to apply. For information, application, and/or special disability accommodations, please contact Lakes and Pines C.A.C., Inc., an Equal Opportunity Employer, 1700 Maple Avenue East, Mora, MN. 55051; 320/679-1800 or www.lakesandpines.org.

Application deadline is: 4:30 p.m. on March 30th.
All applicants are required to complete the Agency's Employment Application and submit a Resume with Cover Letter for consideration.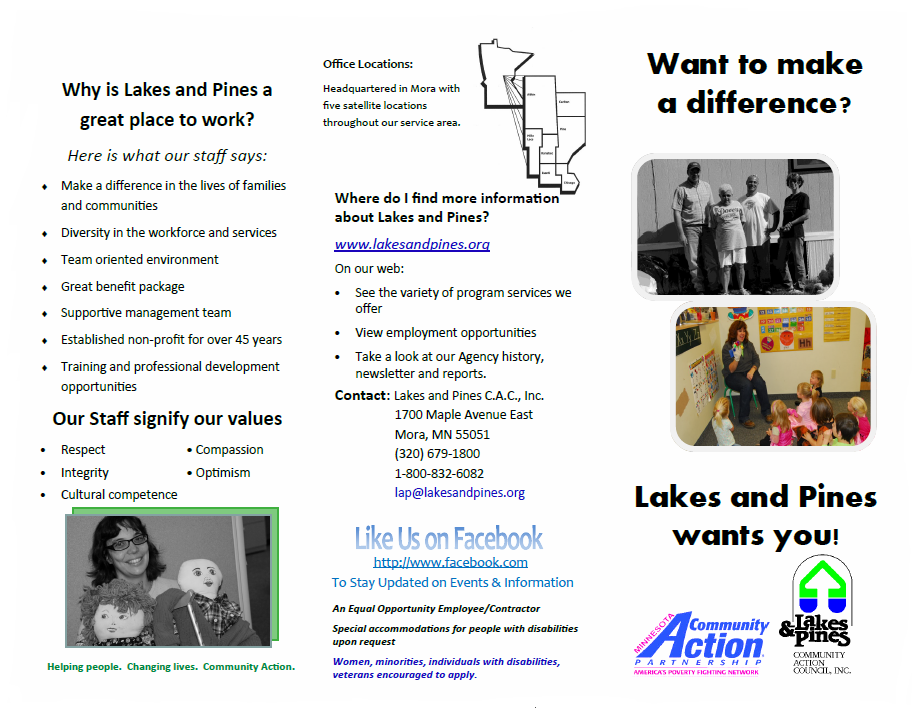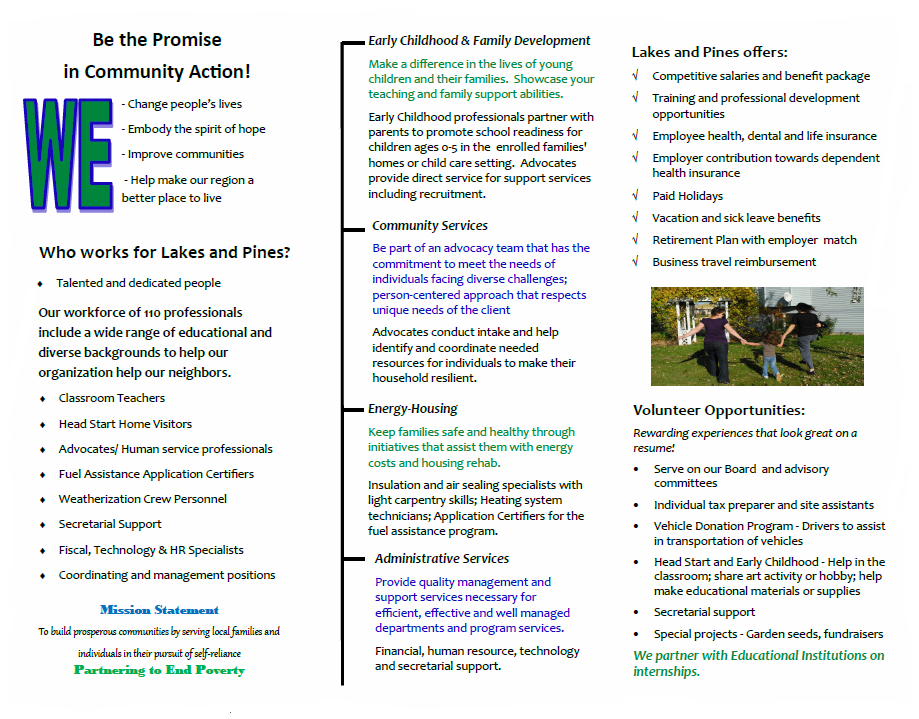 Lakes and Pines CAC is an equal opportunity employer. The Agency will maintain a policy of non– discrimination with all employees and applicants for employment. All aspects of employment within the Agency will be governed on the basis of merit, competence and qualifications and will not be influenced in any manner by race, color, creed, religion, sex, age, national origin, disability, public assistance status, marital status, veteran status, sexual orientation, or gender identity,status as a parent, familial status, or in a local human rights commission or any other legally protected status.

If an applicant needs reasonable accommodations for the employment application process, please contact Lakes and Pines either by phone, mail, email or in person and request such consideration. (Such as sign language, interpreter, materials in large print, accessibility)

Individuals are encouraged to complete an Employment Application form whether or not a vacancy currently exists. Employment applications will be kept on file for one year and will be considered for appropriate job vacancies.