Family Resource Specialist
Lakes and Pines C.A.C., Inc. is excited to announce a new position in Aitkin County, and is seeking a highly motivated, self-starter to join their team as a Family Resource Specialist. This new position was created as part of a collaboration project between Aitkin County Health and Human Services and Lakes and Pines, C.A.C. The Family Resource Specialist will conduct home visits and will work directly with parents to provide resources and outreach opportunities.

Position requires a High School Diploma or equivalency. Preferred education includes a Bachelor's degree in the fields related to Social, Education, Human and/or Family Services. Must be highly organized and have the ability to work independently. Requires a valid driver's license and reliable transportation.

The starting wage for this full time position is $15.75/hour and includes full benefits. For information, job description, and application contact Lakes and Pines C.A.C., Inc., an Equal Opportunity Employer, 1700 Maple Avenue East, Mora, MN 55051-1227; (320) 679-1800 x147 or www.lakesandpines.org. Reasonable accommodations made upon request. Minorities, women, people with disabilities and veterans are encouraged to apply.

Application deadline is 4:30 p.m. Friday, October 23, 2015.


Financial Program Coordinator
Lakes & Pines Community Action Council is hiring a full-time Financial Program Coordinator to be a team member in a comprehensive approach to community building through the delivery of quality financial literacy, asset building and volunteer income tax preperation programming to the seven-county service area.

Applicants must: be a high school graduate (or GED recipient); have proficient math and computer skills and knowledge of Microsoft Office programs; be organized, able to multi-task and be self-directed; be able to work under demanding time schedules; have the ability to build relationships and communicate effectively with people of different cultures and backgrounds; and be able to meet the travel requirements and work schedule flexibility of the position. Experience working in a related field for minimum of two (2) years and/or experience with personal income and property taxes is preferred.

This is a full-time position, 40 hours/5 days per week, with some evening and weekend hours, at office sites in Mora, Milaca and Pine City. Starting wage is $16.62-17.50 per hour, depending on qualifications; full benefits package offered. Lakes & Pines is an equal opportunity employer/contractor. Reasonable accommodations provided upon request. Women, minorities, veterans and persons with disabilities are encouraged to apply.

Lakes & Pines is an equal opportunity employer. Women, minorities, individuals with disabilities and veterans are encouraged to apply. Reasonable accommodations provided upon request.

Application deadline is 4:00 PM, October 14, 2015.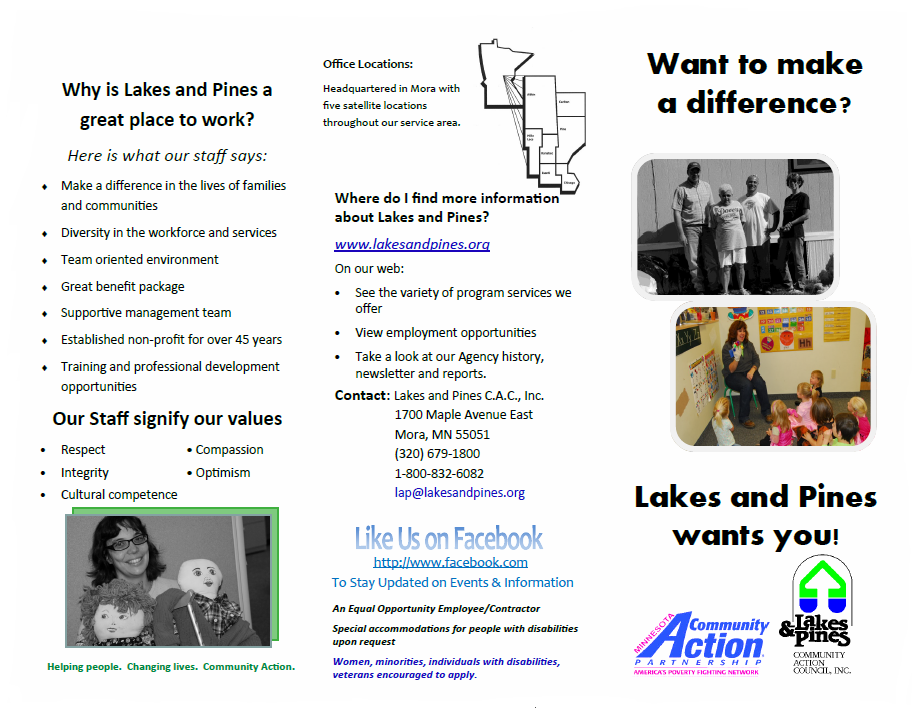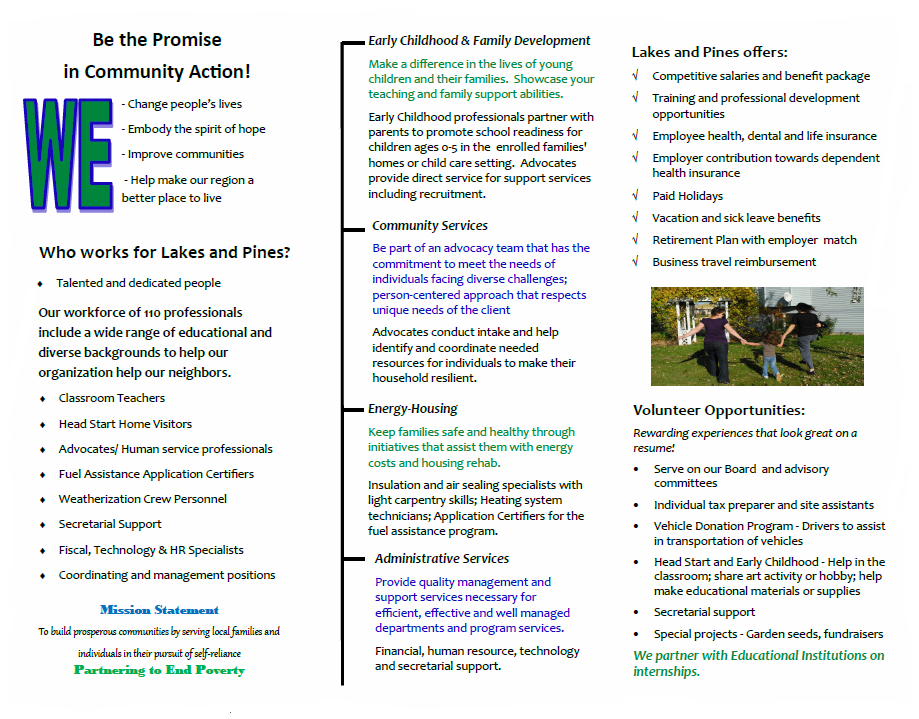 Lakes and Pines CAC is an equal opportunity employer. The Agency will maintain a policy of non– discrimination with all employees and applicants for employment. All aspects of employment within the Agency will be governed on the basis of merit, competence and qualifications and will not be influenced in any manner by race, color, creed, religion, sex, age, national origin, disability, public assistance status, marital status, veteran status, sexual orientation, or gender identity,status as a parent, familial status, or in a local human rights commission or any other legally protected status.

If an applicant needs reasonable accommodations for the employment application process, please contact Lakes and Pines either by phone, mail, email or in person and request such consideration. (Such as sign language, interpreter, materials in large print, accessibility)

Individuals are encouraged to complete an Employment Application form whether or not a vacancy currently exists. Employment applications will be kept on file for one year and will be considered for appropriate job vacancies.