Community Services Advocate
Community Services Department is hiring a full-time Advocates to provide guidance, supportive services and referrals to resources which enable program participants to create goals and identify barriers that with direction and support will increase financial resilience. Each position involves assessing the needs of clients, developing action plans, serving as a resource to clients, having a thorough understanding of services and supports available in the community, completing intake work, assessing eligibility for programs and advocating for the rights and services for low-income persons.

Applicants must: have a high school diploma/GED with 1-3 years' experience working in related field or a post-secondary education in a related field; have experience using Microsoft Office; have awareness of social service programs; be organized and able to multi-task; have the ability to build relationships, problem solve and work with people of different cultures and backgrounds.

Position is for 40 hours per week, Monday through Friday, 8:00 a.m. to 4:30 p.m., located in Mora, with extensive business travel throughout service area.

Salary range is $14.88 to $15.54, depending on qualifications; full benefits package. Lakes & Pines is an equal opportunity employer. Women & minorities are encouraged to apply. Reasonable accommodations provided upon request.

Application deadline : 4:00 p.m., 09/09/2015.
Applicants to complete Agency's Employment Application.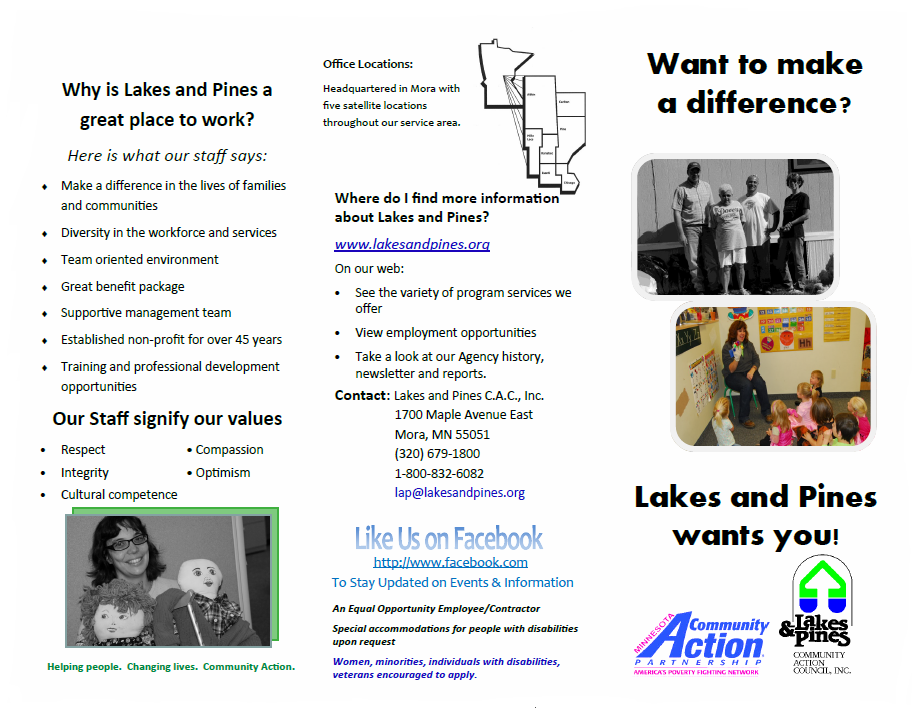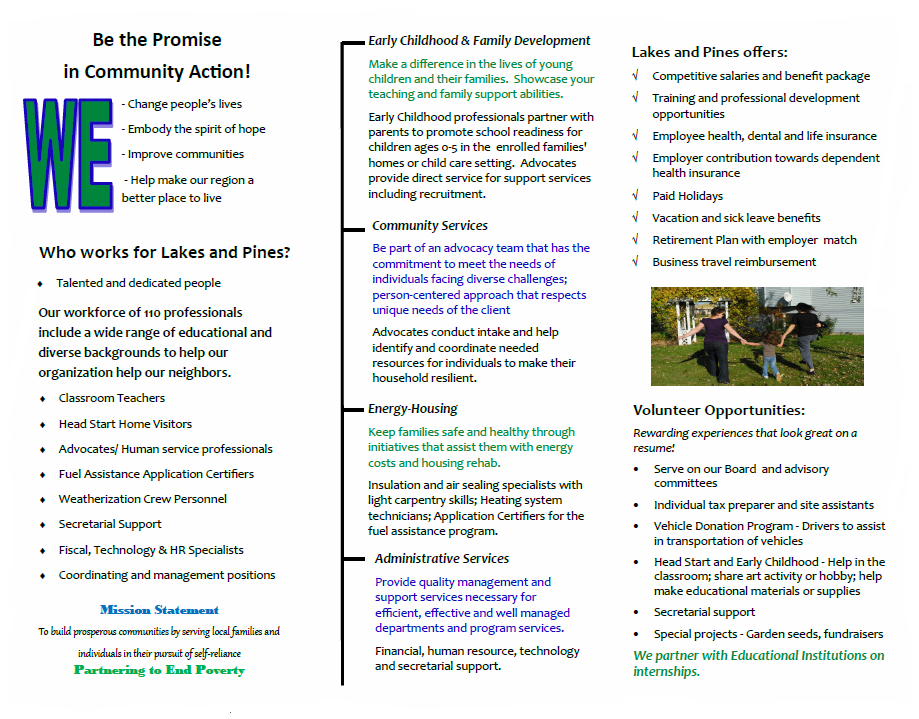 Lakes and Pines CAC is an equal opportunity employer. The Agency will maintain a policy of non– discrimination with all employees and applicants for employment. All aspects of employment within the Agency will be governed on the basis of merit, competence and qualifications and will not be influenced in any manner by race, color, creed, religion, sex, age, national origin, disability, public assistance status, marital status, veteran status, sexual orientation, or gender identity,status as a parent, familial status, or in a local human rights commission or any other legally protected status.

If an applicant needs reasonable accommodations for the employment application process, please contact Lakes and Pines either by phone, mail, email or in person and request such consideration. (Such as sign language, interpreter, materials in large print, accessibility)

Individuals are encouraged to complete an Employment Application form whether or not a vacancy currently exists. Employment applications will be kept on file for one year and will be considered for appropriate job vacancies.