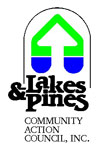 Managing Multiple Priorities, Projects & Deadlines Seminar
Registration Deadline: 8/24/14
When: Thursday, September 25th 2014
Where: Lakes & Pines CAC, Inc. 1700 Maple Avenue E, Mora MN
Time: 8:30 a.m.—3:30 p.m.
Cost: $50 per person + $10 for lunch (optional)
Click Here for More Information
Head Start Home Visitor (Aitkin, MN)
Head Start is looking for a Home Visitor to assist children and families with school readiness activities, co-planned with parents, to prepare them for school and life during weekly home visits and regular socializations. Home Visitors help families with goal setting and resource acquisition to support their efforts towards self-reliance. Home Visitors empower parents to be their child's first and most important teacher.
Click Here for More Information